Litecoin price prediction as the crypto fear and greed index slumps

Crispus Nyaga
Last updated 29th Jun 2022
Litecoin has been in a strong bearish trend in the past few months.
It is hovering near the lowest level since January 24th.
The closely watched fear and greed index has crashed to about 20.
The Litecoin sell-off accelerated in the evening session as investors remained pessimistic about the ongoing geopolitical tensions between western countries and Russia. The LTC coin is trading at $102, which is the lowest it has been since January 24th. It has crashed by about 28% from its highest level this month.
Fear and greed index falls
Litecoin declined sharply as investors remained fearful about the crisis going on in Europe. On Monday, Vladimir Putin announced that Russia will recognize two separatist regions in Eastern Ukraine.
He then ordered the military to move in for "peace-keeping" activities. Therefore, there are growing risks about a full-scale war between Russia and Ukraine, which is being backed by Western countries like the United States.
This explains why Litecoin, Bitcoin, and other cryptocurrencies erase billions of value in the overnight session. According to CoinGecko, the total market capitalization of all digital coins fell to about $1.75 trillion.
At the same time, the market is becoming extremely fearful. According to CNN, the broad fear and greed index has fallen from last week's 34 to the current 30. The market momentum and stock price strength have all moved to the extreme fear zone.
Meanwhile, the Bitcoin fear and greed index has moved from last week's high of 46 to the present 20. Other assets have also declined sharply, with futures tied to the Nasdaq 100 and Dow Jones falling by more than 300 points.
While the declines are notable, history suggests that they will be short-lived. In the past, tensions on key areas like Iran and North Korea leads to an initial dip followed by a rally. Indeed, the market has done well since Russia annexed Crimea in 2014.
Litecoin price prediction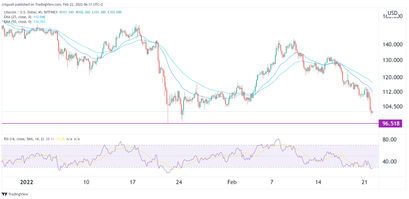 The daily chart shows that the LTC price has been in a deep sell-off in the past few weeks. Precisely, it has fallen by about 30% from its highest level this month.
A closer look shows that the coin has moved below the 25-day and 50-day moving averages (MA) while the Relative Strength Index (RSI) has moved to the oversold level.
Therefore, there is a likelihood that the Litecoin price will keep falling in the near term as bears target the next key support level at around $96. A move below that support, which was the lowest point in January, will signal that bears have prevailed and open the possibility of the coin falling to below $90.

Crispus Nyaga
Crispus is a financial analyst with over 9 years in the industry. He covers cryptocurrencies, forex, equities, and commodities for some of the leading brands. He is also a passionate trader who operates his family account. Crispus lives in Nairobi with his wife and son.