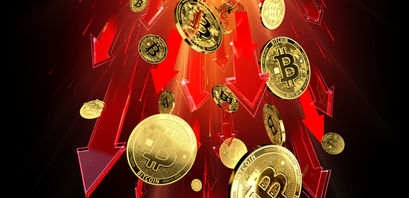 War torpedoes crypto market

Daniela Kirova
Last updated 29th Jun 2022
Bitcoin has lost 40% of its value in the past three months on Fed rate hike fears
Brent oil passed $100 for the first time in 7 years
This morning, Putin's war on Ukraine sent Bitcoin to below $35,000 and the S&P 500 futures down by 730 points, CoinDesk reported. Fed Chair Powell announced cancellation of the planned March rate hike.
Traders hoping for Fed change of heart
Traders on the crypto market are hoping asset market instability and geopolitical uncertainty will move the U.S. central bank to abandon plans to decelerate liquidity-boosting stimulus measures. That might be good news for the biggest crypto by market cap, which has lost 40% of its value in the past three months, mainly on the Fed rate hike fears.
However, this is unlikely to happen according to experts. Matthew Dibb, COO and co-founder of Stack Funds, told CoinDesk:
It's hard to imagine the Fed completely walking back on its plans for a hike in March. There is no doubt that inflationary pressures will also arise from a surge in commodity prices. Russia and Ukraine remain some of the largest exporters of various precious metals and agriculture.
Catch 22
The Fed finds itself in a Catch 22 situation of sorts. Geopolitical uncertainty threatens financial market stability and the economy without a doubt. It also adds to elevated inflationary pressures worldwide, making a rate hike unfeasible.
Brent oil passed $100 for the first time in 7 years. Goldman Sachs stated that conditions for a commodities' super spike in price existed.
Fewer rate hikes than expected
According to market observers, the tightening cycle is shallow and fewer rate hikes than anticipated will occur. Jeff Dorman, CIO at digital asset management firm Arca, shared with CoinDesk on Telegram:
The scripted rate hikes will still happen... most likely 2-3 hikes. But the market's expectations of 6-9 hikes have little chance of playing out.
Yesterday, the markets were set for six percentage point interest rate hikes for the first quarter of 2022. When Putin declared war on Ukraine, rates traders look like they're pricing out the sixth hike, Fed futures data show. What's more, the market is set for a rate decrease in 2024.
Jarvis Labs economist Ben Lilly finds geopolitical turmoil is a welcome distraction for the US Central Bank. He told CoinDesk on Telegram:
Fewer eyes focused on the inflation concerns from day to day. Also, the uncertainty of geopolitics, in general, could curtail spending to a degree. The conflict might actually give the Fed a bit of a reason for inflation running hot.
Daniela Kirova
Daniela is a writer at Bankless Times, covering the latest news on the cryptocurrency market and blockchain industry. She has over 15 years of experience as a writer, having ghostwritten for several online publications in the financial sector.