An unidentified attacker has made away 60,000 ApeCoins, totaling a profit of $820,000 (almost 300 ETH) in an airdrop event by using Bored Ape Yacht Club (BYAC) tokens to redeem BAYC NFTs.
Here is an account of the attack as reported by CertiKAlert:
1. The attacker bought NFT No.1060 from OpenSea, which was later used as the flash loan fee to flash loan 5.2 BAYC tokens from the NFTX Vault – a platform that lets users deposit their NFTs into the vault and mint a fungible ERC20 token which can then be redeemed for specific NFTs from the vault.
2. Used the BAYC tokens borrowed in step 1 to redeem BAYC NFTs (NFT token ID: 7594, 8214, 9915, 8167, 4755)
3. Afterwhich the attacker claimed 60,564 ApeCoin tokens as a reward in the Airdrop contract and sold the majority of $APE on the market to #ETH
4. Finally, the attacker minted BAYC NFTs to BAYC tokens to pay back the flash loan and fees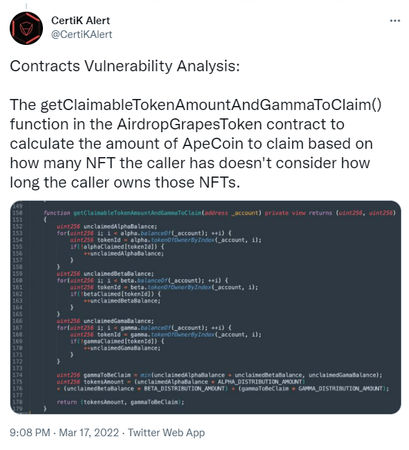 ApeCoin — launched two days ago — is the native governance token behind the APE ecosystem, which includes the community of BAYC and Mutant Ape Yacht Club (MAYC), two of the most sought after NFT collections on the Ethereum blockchain. The skull token's board includes Reddit founder, Alexis Ohanian and FTX's Amy Wu, Yat Siu of Animoca Brands, Maaria Bajwa of Sound Ventures, and Dean Steinbeck at Horizen Labs.
Initially listed on Binance and PancakeSwap, it is now widely available on several platforms including eToro. ApeCoin has added 1,360% to its value in 24 hours at the time of writing.
Author Bio

Amala Pillai
Amala is custom content and news editor based in London. She is a former financial journalist based in Singapore with 7 years of experience covering a range of business and financial topics. Now she focuses on crypto and macro-economics. She has also covered feature profiles, tech, business politics and ESG— she was the Environment Editor for the Solutions Newspaper, 2016 and worked in an editorial capacity at both News corp (Dow Jones) and JBN. She also has experience as a content creator, strategist and brand editor for various financial institutions and banks.