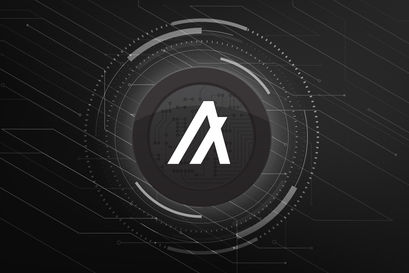 Algorand price has crawled back but challenges remain

Crispus Nyaga
Algorand price has risen by over 35% from its lowest level this year.
The rally is part of the ongoing altcoin rebound.
Challenges about its ecosystem growth remain.
Algorand price has made a steady recovery in the past few days as it mirrors the performance of other popular altcoins. ALGO has moved to a high of $0.9037 even as the Federal Reserve tightens its monetary policy screws. This price is about 35% above the lowest level this week, bringing its total market cap to about $5.9 billion.
Why is ALGO rising?
Algorand is a proof-of-stake blockchain project that aims to become a leading platform for building decentralized applications.
It is a proof-of-stake network that is known for its emphasis on climate change. Its goal is to become a haven for building sustainable decentralized applications. It can handle as much as 1,200 transactions per second, making it significantly faster than Ethereum.
Many developers have embraced the Algorand ecosystem. Some of the highest-ranked projects in the network are AlgoFund, Kaafila, Choice Coin, and OpenFabric among others. Its top DeFi ecosystem includes apps like Algofi, Folks Finance, and Yieldly.
However, unlike other projects like Solana and BNB, Algorand's ecosystem has a relatively low activity. It has a total value locked (TVL) of $106 million, with Algofi having dominance of 74%. This is an indication that it has more room to grow to catch up with other platforms.
Algorand is facing numerous challenges in its battle to become the go-to ecosystem for developers. For example, competition among the industry is growing, with platforms like Solana and Terra gaining market share.
Perhaps, the biggest challenge is the platform that Algorand seeks to disrupt: Ethereum. The Merge is expected to happen in the coming months and transition the network from a proof-of-work to a proof-of-stake. With the introduction of sharding, it is expected that Ethereum will be much faster and transaction costs much lower.
Algorand price prediction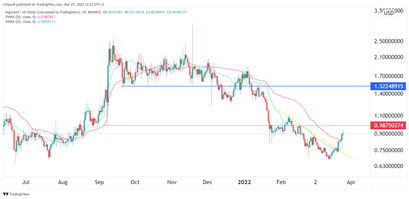 ALGO price has been in a strong bearish trend in the past few months. It has fallen from a November high of $3 to a low of $0.67. Today, the coin is trading at $0.9033, which is slightly above the 20-day and 50-day volume-weighted moving average (VWMA). It has also jumped above the descending trendline shown in yellow.
Therefore, I suspect that the coin will retreat and retest the descending trendline and then resume the bullish trend. If the bullish trend continues, the next reference level to watch will be at $1.

Crispus Nyaga
Crispus is a financial analyst with over 9 years in the industry. He covers cryptocurrencies, forex, equities, and commodities for some of the leading brands. He is also a passionate trader who operates his family account. Crispus lives in Nairobi with his wife and son.