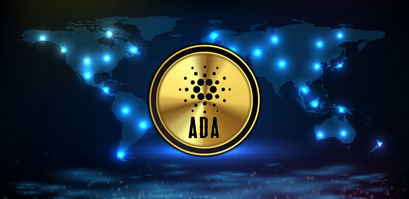 Cardano price prediction for April 2022: Buy the dip?

Crispus Nyaga
Last updated 29th Jun 2022
Cardano price made a spectacular rebound in March.
Ada will likely keep rising in April of this year.
Cardano price had a spectacular performance in March as altcoin prices bounced back. The ADA token rose to a multi-month high of $1.24. It rose by as much as 67% between its lowest level this year, pushing its total market cap to more than $38 billion.
ADA price review
Cardano has been one of the worst-performing cryptocurrencies in the past few months. As I have written before, this performance is mostly because investors were afraid of its young ecosystem and the rising competition in the industry.
The situation changed in March as some of the apps built using its technology gained traction. The first one to cross the $100 million in total value locked (TVL) was SundaeSwap. It was then overtaken by MinSwap, which has a TVL of over $200 million.
At about $320 million in TVL, Cardano's ecosystem is relatively small. For example, Cronos, which launched its mainnet recently, has crossed a TVL of over $3 billion. Still, the fact that many developers are selecting Cardano is a bit encouraging.
Another big news in March was that Wave Financial decided to launch the Wave ADA Yield Fund that is designed to provide liquidity to support the ecosystem. The initial amount of the fund is about $100 million. In a statement, the company's CEO said:
"Our new fund will support the new decentralized exchanges, lending protocols, and stablecoin issuers building on Cardano. They add to the strong foundation of the Cardano blockchain as it realizes a fully functional and diverse ecosystem."
Meanwhile, Cardano announced that it was working to increase the throughput of the platform in the coming months. They hope to make Cardano a faster and cheaper platform for developers and users. All these announcements will likely lead to more adoption. So, while I have been critical of Cardano in the past, I think that its price has the momentum to keep rising.
Cardano price prediction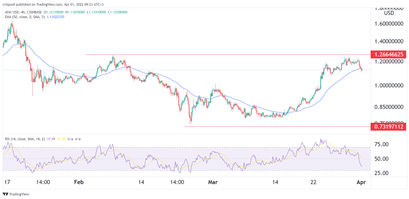 The four-hour chart shows that the Cardano price has been in a strong bullish trend lately. In this trend, it moved close to its highest level in February. This explains why the price has made a pullback in the past few days.
The Relative Strength Index has dropped while the price has moved below the 50-day moving average. A closer look shows that its price is approaching the key support level at $1.1100, which was the highest point on Valentine's day.
Therefore, the overall outlook of Cardano is bullish in April, with the next key resistance being at $1.5, which is 35% above the current level. See how to buy Cardano in April.

Crispus Nyaga
Crispus is a financial analyst with over 9 years in the industry. He covers cryptocurrencies, forex, equities, and commodities for some of the leading brands. He is also a passionate trader who operates his family account. Crispus lives in Nairobi with his wife and son.