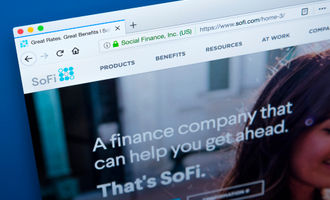 SoFi Stock Price Forecast: Buy the Dip or Sell the Rip?

Crispus Nyaga
Last updated 24th Jun 2022
SoFi stock price has fallen by 65% from its all-time high.
The shares face turbulence in the near term.
Fortunes could change in the long term.
The SoFi stock price plunge accelerated on Wednesday after the Biden administration extended its moratorium on student debt payments. The shares dropped to $8.75, which is close to its lowest level this year. It has crashed by more than 65% from its highest level on record, bringing its total market cap to $7.25 billion.
Why Has SoFi Crashed?
SoFi is a leading fintech company that offers a number of services. It is a lending company that provides personal loans and student debt refinancing. It also provides mortgages, insurance, auto loan refinancing, credit cards, and credit scoring.
SoFi also has investment products that let people buy, hold, and sell multiple assets like stocks and ETFs. Recently, it introduced new features that let people buy cryptocurrencies like Cardano, Bitcoin, and Ethereum. For some time, this was one of its fastest-growing businesses.
The SoFi stock price has been in a strong bearish trend in the past few months. This performance is in line with other fintech companies like PayPal, Block, and Affirm which have lost billions in value.
The stock has also fallen because of the ongoing moratorium of paying student debt as the government attempts to cushion students due to the pandemic. On Wednesday, the company decided to slash its forward guidance after the Biden administration extended this moratorium. It now expects that its adjusted net revenue will be $1.4 billion, which will be lower than the expected $1.55 billion. It expects that its adjusted EBITDA will be $100 million. The firm said:
"Even with the assumption of no end to the moratorium in 2022, our new full year 2022 financial guidance represents approximately 45% year-over-year adjusted net revenue growth to $1.47B, a tripling of Adjusted EBITDA to $100M, and a doubling of margins."
SoFi is a good investment because of its fast and growing market share, higher interest rates, and the fact that it remains being a good acquisition target. It has also become a relatively cheaper company to invest in.
SoFi stock price forecast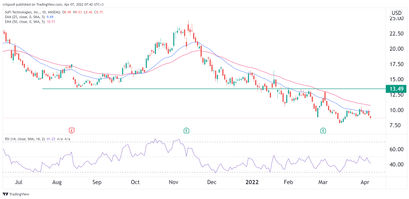 The daily chart shows that the SoFi stock price has been in a downward trend in the past few months. The sell-off accelerated when the coin dropped below the key support at $13.49, which was the lowest level on August 17th.
The sell-off has been supported by the 25-day and 50-day exponential moving averages (EMA) while the Relative Strength Index (RSI) has dropped to 41. Therefore, in the near term, the SoFi share price will likely keep falling and then it will resume the bullish trend in due time.

Crispus Nyaga
Crispus is a financial analyst with over 9 years in the industry. He covers cryptocurrencies, forex, equities, and commodities for some of the leading brands. He is also a passionate trader who operates his family account. Crispus lives in Nairobi with his wife and son.