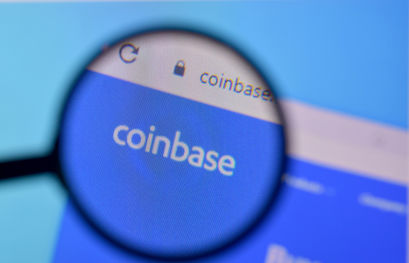 Coinbase stock price forecast: COIN is getting vulnerable

Crispus Nyaga
Last updated 12th Apr 2022
Coinbase stock price has lost its appeal among investors.
The company's market cap has crashed to $36 billion.
It faces an uphill battle as cryptocurrencies remain under pressure.
The Coinbase stock price has lost its appeal among investors as cryptocurrency prices drop and volumes decline. The COIN share price is trading at $166, which was about 61% below its all-time high. The company, which was once valued at over $80 billion, now has a market cap of over $36 billion.
Coinbase and Bitcoin correlation
The past few months have been difficult for Coinbase even as other companies in the industry have flourished. This week, Binance US raised millions of dollars at a valuation of over $4 billion. The company is expected to go public in the coming months.
FTX, the company established by Sam Bankman, has also done well. Its US division raised cash at a $8 billion valuation while the main FTX has a valuation of over $25 billion. Gemini also raised capital at a valuation of $8 billion. Still, there are concerns that venture firms are overpaying for these firms judging by the performance of Coinbase share price. The Bakkt stock price has also crashed hard.
Coinbase stock price has a close correlation with Bitcoin and other cryptocurrencies. For example, the stock jumped to $370 in November last year when Bitcoin rose to an all-time high. It has crashed this year as Bitcoin has remained at a substantially lower price than its all-time high.
The most recent results showed that Coinbase business was losing momentum. Its revenue came in at $2.5 billion while its earnings per share was $3.35. It reported that its volume in Q4 rose to $547 billion from the previous $327 billion. Its retail trading volume of $177 billion was better than the previous$93 billion.
Looking forward, the Coinbase share price will depend on the overall price of cryptocurrencies. A substantial increase in prices will welcome more investors to its platform as they buy Bitcoin and other coins. It will also lead to more traction of its subscription business.
Coinbase stock price forecast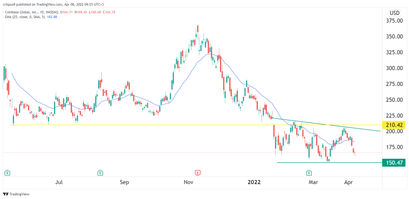 The daily chart shows that the COIN stock price has been moving sideways in the past few days. As a result, it remains between the support and resistance levels at $150 and $200. A closer look shows that the stock may be forming a bearish flag pattern, which is usually a bearish sign.
Coinbase has also dropped below the 25-day and 50-day moving averages and the important resistance at $210. Therefore, from a technical perspective, the outlook of the stock is neutral. A drop below the support at $150 will mean that bears have prevailed and that it will keep falling in the near term.

Crispus Nyaga
Crispus is a financial analyst with over 9 years in the industry. He covers cryptocurrencies, forex, equities, and commodities for some of the leading brands. He is also a passionate trader who operates his family account. Crispus lives in Nairobi with his wife and son.