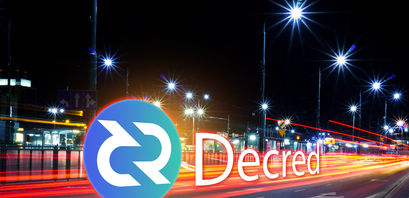 Decred price prediction as the DCR token defies gravity

Crispus Nyaga
Last updated 11th Aug 2022
Decred price jumped to the highest level since January.
The rally was due to the recent network votes.
The Decred price jumped sharply on Monday even as other cryptocurrency prices retreated. It rose to a high of $87.52, which was the highest level since January 22 this year. It has risen by about 67.35% from its lowest level this year, bringing its total market capitalization to about $1 billion.
What is Decred?
Decred is a leading privacy-focused cryptocurrency whose unique feature is its hybrid characteristics. In its hybrid option, the network combines both proof-of-work (PoW) and proof-of-stake (PoS) consensus mechanisms.
According to its website, 60% of all newly generated tokens go to PoW miners while 30% of these rewards go to PoW validators. The remaining 10% goes to a development subsidy
Decred has other features such as its decentralized stake pooling. It handles this situation by allowing multiple inputs into a ticket purchase transaction and committing to the UTXO subsidy amount for each input proportionality. At the same time, it commits to a new output public key for these proportional rewards.
The Decred price rose sharply on Monday morning as other cryptocurrency prices declined. Bitcoin price fell below $40,000 while Ethereum fell to $3,000. The total market cap of all cryptocurrencies declined by 1.6% to about $1.95 trillion.
It is unclear why the DCR price defied gravity on Monday. One of the likely reasons is the recent consensus changes that were passed by members. Some of the most recent votes related to reverting treasury expenditure policies, automatic ticket revocations, and explicit version upgrades. Another reason is the rising demand for privacy tokens.
Decred price prediction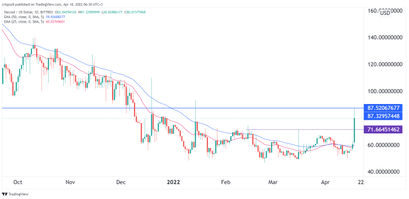 The daily chart shows that the Decred price jumped sharply on Monday. It reached a high of $87.52, which was the highest point on January 22. Along the way, the coin has managed to move above the 50-day and 25-day moving averages (MA). It also managed to move above the important resistance level at $71.66, which was the highest level since March 16th.
Therefore, there is a likelihood that the DCR price will keep rising as bulls target the key resistance at $90. A drop below the support at $71.66 will invalidate this view. Here are the best cryptocurrency brokers to buy Decred.

Crispus Nyaga
Crispus is a financial analyst with over 9 years in the industry. He covers cryptocurrencies, forex, equities, and commodities for some of the leading brands. He is also a passionate trader who operates his family account. Crispus lives in Nairobi with his wife and son.