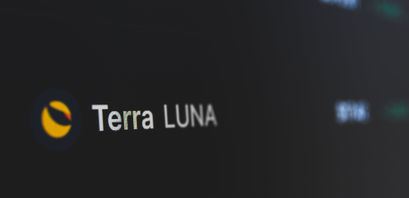 Terra price prediction: Here's why LUNA is bouncing back

Crispus Nyaga
Last updated 29th Jun 2022
Terra price has bounced back in the past few days.
The Terra ecosystem has seen strong developments lately.
The Terra price jumped sharply on Tuesday morning as investors reflected on the new developments in the network. LUNA jumped to a high of $90, which was about 19% above the lowest level this month. Its total market capitalization has moved to about $31 billion, making it the eighth biggest cryptocurrency in the world.
Terra ecosystem growth
Terra is one of the biggest blockchain projects in the world. In the past few months, it has evolved to become a leading pillar in the industry. For example, recently, the Luna Foundation Guard announced that it would buy Bitcoin worth over $10 billion.
It also acquired Avalanche worth over $200 million. Its goal is to ensure that its stablecoins like Terra USD and Terra KRW are backed by a basket of cryptocurrencies.
Terra has also become an important player in the Decentralized Finance (DeFi) industry. For example, according to DeFi Llama, DeFi apps built in its ecosystem like Anchor Protocol and Lido are the second and third-biggest in the industry. They have a combined market cap of over $33 billion.
Other apps in Terra's ecosystem such as Astroport, Chai, TerraSwap, Mirror Protocol, Nexus Protocol, and Angel Name Service are also seeing strong growth.
There have been a number of events in Terra's ecosystem. For example, the network launched Terra Global Founder Fellowship program. Anchor Protocol and Acala Network integrated with Wormhole to unite Terra and Polkadot. Anchor listed in Crypto.com while UST has the highest APUY on ThorcChain's network.
Another notable development was that Terra USD managed to pass the Binance USD to become the third biggest stablecoin in the world. It now has a total market cap of over $17.6 billion while BUSD has a value of $17.3 billion.
Terra price prediction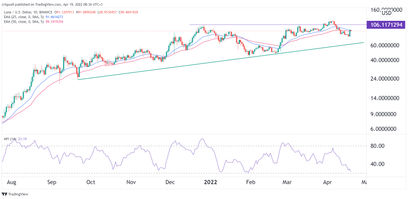 The daily chart shows that the LUNA price has been in a strong bullish trend in the past few days. As a result, the coin has moved above the ascending trendline shown in green. It has also moved to the 25-day and 50-day moving averages and is slightly below the important resistance at $106. The Money Flow Index (MFI) has continued retreating and is currently close to its oversold level.
Therefore, there is a likelihood that the Terra price will keep rising as bulls target the upper side of the resistance at $110.

Crispus Nyaga
Crispus is a financial analyst with over 9 years in the industry. He covers cryptocurrencies, forex, equities, and commodities for some of the leading brands. He is also a passionate trader who operates his family account. Crispus lives in Nairobi with his wife and son.