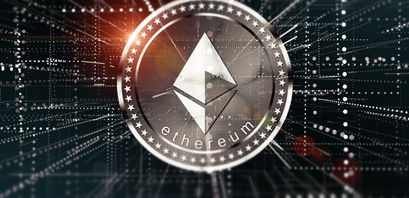 Ethereum Price Prediction Ahead of US Inflation Data

Crispus Nyaga
Last updated 5th Aug 2022
Ethereum price has been in a strong bearish trend.
Has Ethereum found a bottom ahead of US inflation data?
Ethereum price crashed to an important support level as the cryptocurrency sell-off gained steam. The ETH token has fallen sharply ahead of the upcoming American consumer inflation data. It is trading at $2,370, which is slightly above this week's low of $2,200.
US inflation data ahead
Cryptocurrency prices have declined sharply in the past few months as investors reflect on the shifting policies of the Federal Reserve.
The Fed, which judged inflation poorly in 2021, is now playing catchup considering that prices are hovering at their 40-year highs.
Therefore, investors are living in a period of new normal that they have not been for years. In May, the Fed decided to hike interest rates by 0.50%. And now, most officials expect to hike rates by the same amount several times this year. Some officials are also considering 0.75% rate hikes.
In addition to rate hikes, the Fed is also considering implementing quantitative tightening policies. This is a process where the bank starts to shrink its balance sheet. Cryptocurrency investors have not lived in such macro conditions before.
Therefore, Ethereum price will react to the latest economic data from the United States that are scheduled later today. Economists expect these numbers to reveal that the rate of inflation rose fell slightly to 8.0% in April. If they are accurate, it will signal that inflation is indeed peaking. That could provide some relief to Ethereum and other crypto prices.
Meanwhile, Ethereum is bouncing back as investors reflect on the woes facing Terra. The LUNA price has collapsed by more than 90% in the past 24 hours after Terra UST lost its peg. Therefore, analysts believe that Ethereum could beneficiary of this since it is often seen as a more safe option than most blockchains.
Ethereum price prediction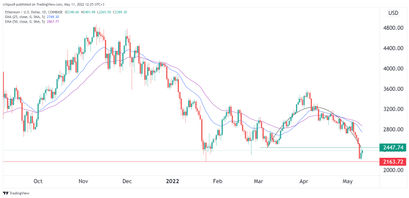 The daily chart shows that the ETH price has been in a strong sell-off lately. The coin has managed to move below the important support at $2,447, which was the lowest level on May 7th. Along the way, the coin has formed what looks like an inverted cup and handle pattern.
At the same time, the coin is hovering near the important support level at $2,163. It has moved below the 25-day and 50-day moving averages. Therefore, it seems like we are still in a bearish trend and a move below the key support level at $2,000 cannot be ruled out. If this happens, the next key support to watch will be at $1,500.
Is it worth buying Ethereum right now?
Ethereum is one of the biggest cryptocurrencies out today with many ETH transactions happening every day.
According to our guide on how to buy Ethereum, "if you're looking for something to invest in for the long-term, you might want to consider it and buy Ether coins."

Crispus Nyaga
Crispus is a financial analyst with over 9 years in the industry. He covers cryptocurrencies, forex, equities, and commodities for some of the leading brands. He is also a passionate trader who operates his family account. Crispus lives in Nairobi with his wife and son.