UST Crash: Will Terra USD Recover. History Says Yes

Crispus Nyaga
Last updated 15th Dec 2022
Terra USD's stablecoin crashed hard this week as it lost its peg.
The crash came a few weeks after Neutrino lost its peg as well.
While the trust is gone, there is a likelihood that UST will recover.
The Terra USD has made headlines this week as the coin managed to lose its peg. The UST coin crashed to a low of $0.25 on Wednesday as panicked investors sold their holdings. Now, the coin has moved to $0.48, which is still lower than the parity level at $. So, will the UST price recover?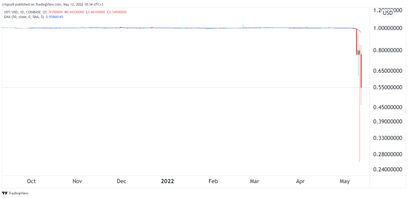 Why did Terra USD crash?
Stablecoins are cryptocurrencies that seek to solve the volatility problem that has existed in the blockchain industry for more than a decade.
Broadly, there are two main types of stablescoins: centralized and decentralized. Centralized coins like Tether and USD Coin are controlled by companies that ensure that each coin is backed by real cash. In this case, Tether is owned by BitFinex while USD Coin is owned by Circle.
Learn more about how to buy Terra.
Decentralized stablecoins like Terra USD, Neutrino, and USDD, on the other hand, are algorithmic in nature. As a result, they are not backed by hard assets like the US dollar or Bitcoin. Instead, members of the community work to ensure that the price stays at about $1. They do this by a continuous process of buying and burning stablecoins.
The UST crash happened when the stablecoin lost its peg as the supply and demand dynamics of the protocol crashed. As a result, the coin crashed to a low of 25 cents, meaning that holders who had $1 saw their value drop to 25 cents.
The implication for this crash was dire. Terra Luna price crashed by more than 90%. Similarly, the DeFi tokens built in this platform declined sharply. They include Anchor Protocol, Astroport, and Lido.
Will UST recover?
The biggest question among traders is whether UST will ever recover. In a statement on Wednesday, Do Kwon, the founder of Terra said that the coin will ultimately recover. The statement explained the mechanisms built into the platform to ensure that it reaches parity.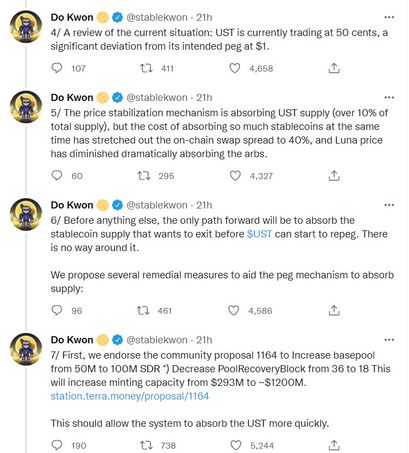 In my view, I expect that this recovery will take place even though trust in its ecosystem is now gone. As you recall, Neutrino lost its peg in April, leading its price to collapse to 33 cents. Today, the Neutrino price has moved back to 90 cents. Therefore, there is a likelihood that the UST price will continue this recovery. It is also worth noting that Tether has moved below $ 1 several times before.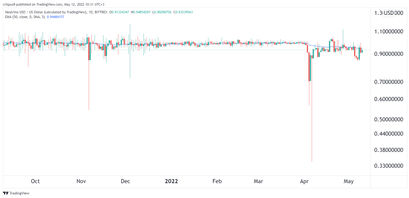 The other reason is that investors tend to overreact in such conditions. A good example of this is when the Russian ruble collapsed to an all-time low after the invasion of Ukraine. Today, the ruble has become one of the best-performing currencies globally. Therefore, as the situation cools, there is a possibility that the Terra USD price will recover.

Crispus Nyaga
Crispus is a financial analyst with over 9 years in the industry. He covers cryptocurrencies, forex, equities, and commodities for some of the leading brands. He is also a passionate trader who operates his family account. Crispus lives in Nairobi with his wife and son.