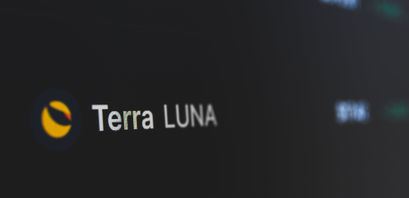 LUNA Price Prediction: Do Kwon Unveils Terra Revival Plan

Crispus Nyaga
Last updated 5th Aug 2022
The Terra LUNA price has been in a freefall lately.
Do Kwon unveiled a recovery plan of the network.
The Terra LUNA price attempts to recover faded as the coin came under intense sell-off on Monday. The coin is trading at $0.00020, which is above its all-time low of $0.0000050. This price is about 100% below its all-time high. Its market cap has dropped to about $1.1 billion, which is lower than its all-time high of over $65 billion.
Will LUNA bounce back?
Terra was one of the top ten cryptocurrencies in the world. Its native coin had a peak market value of over $60 billion, making it bigger than Lehman Brothers when the company went bankrupt.
In addition to LUNA, Terra supported other blockchain economies. For example, at its peak, its ecosystem had a total value locked (TVL) of more than $30 billion. This made it the second-biggest blockchain in the world after Ethereum. Some of the most notable names were Anchor Protocol, Lido, and Astroport among others.
Additionally, Terra was the parent of Terra USD. This stablecoin was the third-biggest in the industry after Tether and USD Coin. It had a market cap of over $20 billion. The LUNA price crashed hard last week after the stablecoin lost its peg, which led to a major devaluation of all assets in its ecosystem.
Therefore, the biggest question among investors is whether the LUNA price will recover. Some analysts believe that the coin will ultimately recover since all the bad news has been priced in. Others believe that the reputation has already been damaged.
Is Terra's revival plan feasible?
In a statement, Terra's founder, Do Kwon pointed to a community proposal that will lead to the launch of the Terra Chain that will be independent from UST. He argued that such a rescue plan will not succeed. Instead, he proposed that the validators should reset the network ownership to 1B tokens.
400 million of these tokens will go to Luna holders before the depegging while 400 million will go to UST holders. The remaining 200 tokens will to LUNA holders at the final moment of chain's halt and community pool. It is still to early to determine whether the community will embrace this approach.
LUNA price prediction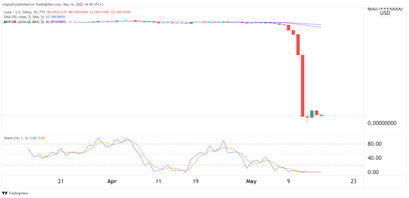 The daily chart shows just how bad the LUNA price has dropped in the past few days. The coin has formed a bearish pennant pattern, which is a sign that the bearish trend will continue. Therefore, it is a bit risky to buy Terra at this moment. However, we can't rule out a situation where the coin goes parabolic in the near term.

Crispus Nyaga
Crispus is a financial analyst with over 9 years in the industry. He covers cryptocurrencies, forex, equities, and commodities for some of the leading brands. He is also a passionate trader who operates his family account. Crispus lives in Nairobi with his wife and son.