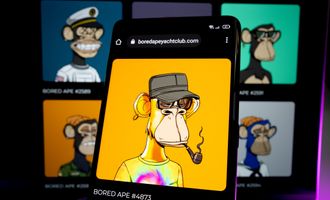 BAYC floor price plunges 50% amid crypto market turmoil

Jinia Shawdagor
Last updated 29th Jun 2022
The collection's floor price plunged from $420,000 on May 1 to $187,218 now.
BAYC's sales volume also took a hit, dropping 117% week-on-week.
APE, BAYC's partnered crypto, is also trending downward, losing 11.72% in the day.
The non-fungible token (NFT) space has suffered a significant blow following the recent crypto market crash. This bearish trend did not spare even the largest NFT projects. For instance, the floor price of Yuga Labs' Bored Ape Yacht Club (BAYC) has plunged more than 50% in dollar terms since the start of the month.
According to data from OpenSea, the largest NFT marketplace, BAYC's floor price currently sits at 97 Ethereum (ETH). At the time of writing, ETH is changing hands at $1,930.09 after losing 4.84% over the past 24 hours. This means the dollar value of the cheapest Bored Ape is $187,218.
This value represented a 55.5% drop since the start of the month when the collection's floor price stood at $420,000. The poor market conditions also took a toll on the number of BAYC sales, with the sales volume plunging 117% week-on-week.
ApeCoin (APE) plunges significantly
The crypto market crash resulted from the de-pegging of TerraForm Labs TerraUSD (UST) stablecoin. Attempting to recover UST's peg, the Luna Foundation Guard (LFG) sold its Bitcoin (BTC) reserves, increasing the selling pressure in the crypto market. Nonetheless, LFG did not manage to recover UST's peg, and the stablecoin lost 91.15% of its value to trade at $0.08909.
As a result of the selling pressure, BTC plunged to a low 52-week low of $26,350.49, further fueling the bearish trend in the altcoin market. Among the coins that suffered substantial losses is BAYC's partnered cryptocurrency, ApeCoin (APE).
APE's poor performance started when the launch of Otherside, Yuga Labs' metaverse project, clogged the Ethereum network resulting in users paying between 2.6 to 5 ETH in gas fees. Moreover, some users paid this high fee and failed to get Otherdeed NFTs due to high demand and a limited supply.
As a result of the messy launch, APE took a sharp dive as people pulled investments out of the coin. Before this impact could die down, the selling pressure due to UST's collapse caught up with APE, exacerbating its lackluster performance. The token is currently trading a $7.60 after losing 11.72% in the day.
Jinia Shawdagor
Jinia is a fintech writer based in Sweden. With years of experience, she has written about cryptocurrency and blockchain for renowned publications such as Cointelegraph, Bitcoinist, Invezz, etc. She loves gardening, traveling, and extracting joy and happiness from the little things in life.