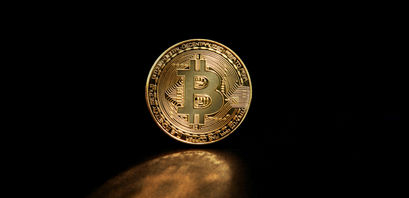 Bitcoin Price Prediction as the Fear and Greed Index Falls to 12

Crispus Nyaga
Last updated 31st Jan 2023
Bitcoin price has been in a narrow range recently.
The fear and greed index has moved to the extreme fear of 12.
BTC is preparing a massive move in the coming days.
Bitcoin price is still in a price-discovery phase as the fear and greed index retreats to the extreme fear level. BTC is still hovering at about $30,000, where it has been throughout this week. This price is substantially above last week's low of about $25,393.
Fear and greed index retreats
Bitcoin has been in a strong downward trend as investors sentiment remains extremely fearful. A look at the CNN Money fear and greed index shows that it has declined to the extreme fear zone of 12, which is the lowest level it has been in months.
Most of its sub-indices shows that fear has spread across sectors. For example, market momentum, which happens when the S&P 500 index is below the 125-day moving average has moved to the extreme fear. The same is true among indices on stock price strength and breadth, safe haven and junk bond demand, and market volatility.
This fear and greed index is important because it uses various gauges in the market such as put and call options. Most importantly, stocks and cryptocurrencies have been extremely correlated in the past few months. For example, the Bitcoin price is relatively stable simply because the Nasdaq 100 futures point to a higher open.
Find out how to buy Bitcoin cheaply.
There have been several catalysts of Bitcoin price. First, the Fed has been the biggest game in town as it maintains an incredibly hawkish tone in the market. It has insisted that it will continue hiking interest rates and start a period of rate quantitative tightening.
Second, there are signs that inflation is having a much bigger impact on American companies than expected. This was evidenced by the latest earnings by Target, Kohls, and Walmart. This trend is notable because of the correlation between stocks and Bitcoin.
Finally, a closer look at on-chain data shows that there is simply no demand for Bitcoin at this stage considering that investors are yet to see more signals for a bottom.
Bitcoin price prediction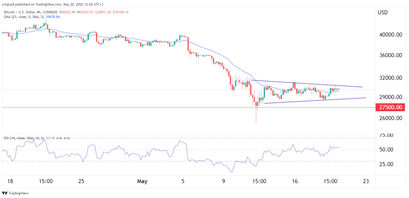 Turning to the daily chart, we see that the BTC price has moved into a consolidation phase in the past few days. As a result, the coin is consolidating along the 25-day and 50-day moving averages.
Bitcoin has also formed a symmetrical triangle pattern that is shown in purple while the RSI has been stuck slightly above the neutral point at 50. Therefore, at this point, the outlook of the BTC price is neutral with a bearish bias. A drop to $27,000 cannot be ruled out.

Crispus Nyaga
Crispus is a financial analyst with over 9 years in the industry. He covers cryptocurrencies, forex, equities, and commodities for some of the leading brands. He is also a passionate trader who operates his family account. Crispus lives in Nairobi with his wife and son.