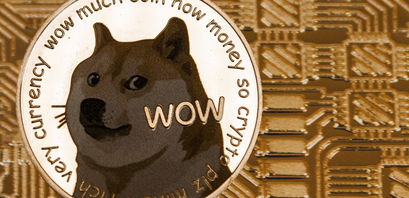 Dogecoin Price Prediction: 4 Reasons Why DOGE Has Crashed

Crispus Nyaga
Last updated 5th Aug 2022
Dogecoin price has crashed hard in the past few months.
Fiscal and monetary factors have contributed to this decline.
Dogecoin price has continued drifting lower in the past few months as demand for the coin has waned. DOGE has dropped to a low of $0.0831, which is about 90% below its all-time high. The coin's market cap has crashed to about $11.1 billion, making it the 11th biggest coin in the world.
Why has DOGE crashed?
There are several reasons why Dogecoin price has crashed since peaking at $0.74 in May last year. First, the decline has been in line with the overall performance of both stocks and cryptocurrencies. The total market cap of all cryptocurrencies has crashed from over $3 trillion to today's $1.2 trillion. Historically, cryptocurrencies tend to move in sync.
Second, fiscal conditions have worsened since May last year. At the time, most Americans were flush with cash, thanks to the trillions of dollars that the Federal government provided to them. As a result, with the price of most assets rising, many people shifted their cash to cryptocurrencies like DOGE.
This year, the government has not provided any stimulus while inflation has jumped sharply. As such, many people don't have extra money to invest in cryptocurrencies whose prices are in a freefall. This explains why the number of people who are actively trading Dogecoin and other cryptocurrencies has been in a strong downward trend.
Learn how to buy Dogecoin with a debit card.
Third, there are concerns about whether meme coins like Dogecoin and Shiba Inu will survive in a period when the Fed is tightening monetary policy. The bank has already hiked interest rates by 0.75% and is expected to keep rising in the coming months. Historically, risky assets like Dogecoin and SHIB tend to underperform in a period when the Fed is tightening.
All these reasons also explain why meme stock shares have all declined. This includes companies like Clover Health, Blackberry, and GameStop.
Finally, there are signs that Elon Musk will not buy Twitter. Last week, he announced that he was suspending the deal because of the rising number of bots in the ecosystem.
DogeCoin price prediction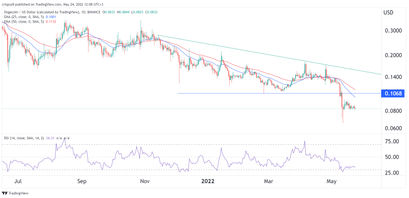 The DOGE price has been in a strong bearish trend in the past few months. The coin managed to move below the important support level at $0.1068, which was the lowest level on February 24th. The coin has moved below the lower side of the descending triangle patten.
Further, the coin has dropped below the 25-day and 50-day moving averages. It has also formed a bearish consolidation pattern. Therefore, there is a likelihood that the coin will keep falling as bears target the key support at $0.05.

Crispus Nyaga
Crispus is a financial analyst with over 9 years in the industry. He covers cryptocurrencies, forex, equities, and commodities for some of the leading brands. He is also a passionate trader who operates his family account. Crispus lives in Nairobi with his wife and son.