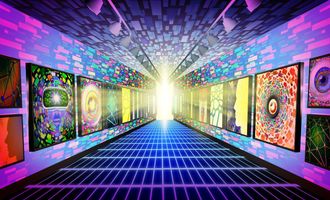 Google Searches Show 88% Fall in Interest in Buying NFTs

Murtuza Merchant
Last updated 31st Jan 2023
Google trends show dramatic fall of interests in NFTs
Interest in the NFT market has more than halved since January 2022
Investors wary of the NFT markets fearing scams, phishing frauds
Experts point out bearish sentiments causing people to move money to safer assets
Google Trends data indicates that interest in non-fungible tokens (NFTs) among internet users across the globe has reached its lowest since October 2021— a far cry from what was prevalent at the peak of the craze in early 2022.
Search interest for the term "buy NFT" has nose-dived to its lowest levels as compared to the term "sell NFT" since the first week of October according to worldwide data from Google Trends (GT).
GT statistics indicate that interest for the term "buy NFT" has dropped down to a score of 12 on a scale of 100 between May 29 and June 4, 2022, representing an 88% drop from its peak score of 100 that was recorded through the week of January 16-22, 2022. In comparison, the term "sell NFT" has witnessed an 86% decline in its search interest score from 52, which was recorded at the start of 2022, to a score of 7 in the period between May 29 and June 4, 2022.
This level was previously seen through the week of October 3 and October 9, 2021, which was just before the sharp uptick in interest for NFTs witnessed towards the end of 2021, before the sharp uptick in interest seen for NFTs across the globe.
However, the search interest for buying NFTs dropping consistently since the start of 2022, signaling a period of consolidation for the best-performing digital asset class over the past twelve months.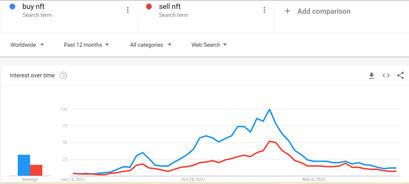 According to a report by DappRadar, the NFT market generated $3.7 billion in terms of trading volumes in May 2022, 20% down from that registered in the previous month.
Despite the glum scenario, an analysis of volumes across the various NFT marketplaces highlights many green shoots, with platforms such as Solana NFTs defying the current trend and posting a 13% growth in the same period.
Certain NFT categories like those belonging to arts and entertainment have also similarly bucked the trend and witnessed a resumption in NFT search interest since mid-May 2022.
Genuine investors in a fix over scams
According to Raj Kapoor, chief advisor of crypto advisory firm Acryptoverse, when Qing Han, a famous digital artist died in 2020, it set off a series of scams as malicious entities took advantage of the moment to sell her artwork as NFTs, on her behalf.
In another incident last year, graffiti artist Banksy's website was hacked and an ad for the sale of what was supposed to be his first NFT was put up, with a collector ending up paying $336,000 to hackers.
Moreover, according to experts, an increasing number of fake profiles, Discord scams, phishing frauds, pump and dump routines and rug pulls are coming to the fore in the NFT markets of late.
A quantum surge in digital art creation and an overabundance of digital artists all cramming up to take part in the presumed gold rush has undoubtedly created an asymmetrical pattern of demand and supply. In the current corrective environment, it is possible that eventually, supply will outweigh demand, a feature of every other creator-based economy.

Raj Kapoor, chief advisor of Acryptoverse
A combination of these factors is making investors jittery and has led them to flood the NFT market with supply than exceeds the current demand. As a result of this, prices of NFTs from popular collections like those of CryptoPunks and Bored Ape Yacht Club have dropped significantly from their peaks.
Market participants shifting money to safe assets
Aliasgar Merchant, a developer relations engineer at Ignite says the current bearish sentiments across crypto markets, stocks, and commodities are causing people to move their money to safer assets from risky assets like NFTs.
"People are losing their trust in cryptos in general. The recent Terra crisis showed how people could lose money in just a few days. That said, given the volatility of NFTs, people are being extra cautious. In the long run, one should focus on projects they genuinely feel comfortable in and know about. Just following the trend like investing in an NFT because everyone is doing so will cause more harm than good in the long run," Merchant says.
Bright future potential as NFTs play a vital role in building the metaverse
Despite the challenges plaguing the NFT industry and a gloomy macro outlook, new levels of utilities are being unlocked by NFT-focused companies through constant innovation.
As the metaverse expands its horizon and more internet users flock to explore this alternate reality, there is a spurt in NFT trading platforms that are acting as 'phygital' marketplaces and facilitating the convergence of the real and digital worlds.
Offering multiple avenues for both collectors and content creators to exchange goods, NFTs are thus playing a key role along with cryptocurrencies to build the economic foundations of the metaverse, potentially leading to the creation of a parallel economy for all citizens to transact in.
Current phase favorable for NFT buyers
Commenting on how the slump in the NFT markets can be a boon, Arijit Mukherjee, Founder of NFT marketplace Yunometa says with inflationary pressures rising and uncertainty in money markets running the ride, we are clearly in a consolidation phase.
"Parallels can also be drawn to various crypto assets and coins that are trading at significantly lower levels than their all-time highs. This can be a blessing in disguise for those waiting to build a formidable NFT collection, as things have never been better for buyers," he says.
He adds that things might look bleak for content creators and digital artists currently as buyers cut down on discretionary spending.
"That being said, there is no doubt that NFTs will be back stronger and better in the next few months. One can take a cue from the increasing bandwagon of celebrities and sportspersons who're in the process of or already launched their bespoke NFT collections. Both buyers and sellers would do well to conduct their own research and make the most of this lucrative buying opportunity," Mukherjee says.

Murtuza Merchant
Murtuza Merchant is a senior journalist, having been associated with various publications for over a decade. An avid follower of blockchain tech and cryptocurrencies, he is part of a crypto advisory firm that advises corporates – startups and established firms on media strategies.