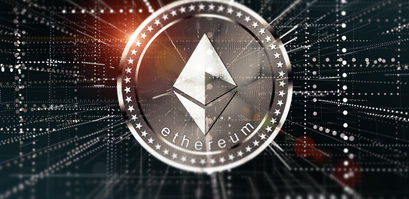 Ethereum Price Prediction as ETH Merge Process Continues

Crispus Nyaga
Last updated 30th Nov 2022
Ethereum price attempts to recover found a strong resistance.
Developers are still pushing ahead with the ETH 2.0 upgrades.
Ethereum price recent recovery has fizzled out as investors wait for a statement by Jerome Powell and as inflation risks remain. ETH is trading at $1,087, which is about 23% above the lowest level during the weekend. Its price action mirrors that of Bitcoin, which is hovering slightly above $20,000.
Ethereum merge process continues
Ethereum price has been in a downward trend in the past few months as investors worry about the entire blockchain industry.
The recent collapse of Terra's ecosystem and the ongoing crisis in Celsius and BlockFi has forced many people to abandon the industry all together. This is coupled by the fact that investors have lost over $2 trillion in the past few months.
As a result, the total value locked (TVL) in Decentralized Finance (DeFi) has collapsed from more than $200 billion to less than $80 billion.
The same trend has happened in other areas of the blockchain like the metaverse and non-fungible (NFT) tokens. As we wrote earlier, interest in the metaverse has collapsed by 83% in the past few months while the volume of NFTs has dropped sharply in the past few months.
Still, Ethereum developers are working on The Merge. The merge is the process that seeks to transition Ethereum from a proof-of-work to a proof-of-stake platform. It will merge the existing version of Ethereum with the beacon chain.
Learn more about when ETH merge will happen.
In a note on Tuesday, Ethereum developers noted that they had pushed the Sepolia testnet beacon chain, setting the stage for the merge dress rehearsal. Testnet merges are essential for the network because they give developers a chances to understand what they will get when the real merge happens. Analysts believe that the merge will be completed in August of this year.
Ethereum price prediction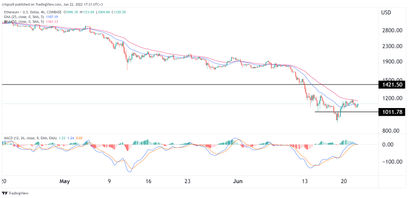 The four-hour chart shows that Ethereum price attempted to recover after it plummeted to a low of $880 during the weekend. However, this recovery faded on Tuesday when it moved to the key resistance level at $1,193.
Now, the coin remains below the 25-day and 50-day moving averages while the MACD has moved to the neutral point. Therefore, the outlook for Ethereum is still bearish, with the next key level to watch being at $1,000. A move above this week's high of $1,188 will invalidate the bearish view.

Crispus Nyaga
Crispus is a financial analyst with over 9 years in the industry. He covers cryptocurrencies, forex, equities, and commodities for some of the leading brands. He is also a passionate trader who operates his family account. Crispus lives in Nairobi with his wife and son.