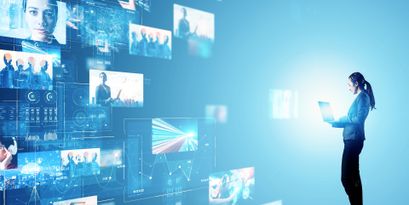 Search Interest for 'How To Make NFTs' Reaches New High in 2022

Murtuza Merchant
Last updated 30th Nov 2022
Search interest on making NFTs grows exponentially over the past year
Trend dominant in Indonesia, Sweden, Netherlands, Singapore, New Zealand, and the UAE
With non-fungible tokens (NFTs) witnessing mass adoption, the number of internet searches on how to mint digital assets has grown exponentially over the past year, peaking in the week of January 16, 2022.
According to worldwide data from Ahrefs and Google Trends (GT), search interest for the phrase 'how to make NFTs' trumped those for 'how to become an influencer' by almost three times from January 16 to January 22, indicating rising global interest in jumping on the NFT bandwagon.
This trend is particularly dominant in countries such as Indonesia, Sweden, Netherlands, Singapore, New Zealand, and the United Arab Emirates with a comparison between the two searches pointing to nearly 100% being dominated by the NFT query.
For major economies like the USA, Germany, United Kingdom, India, and Australia, a similar comparative study shows that more than two-thirds of the search results are for NFTs — an indication of the rising influence of NFT artists and creators in the Metaverse.
Content creators flocking to the NFT space
Jonathan Chen, Head of Operations at NFT platform Creaticles, says the Google searches are not surprising considering how the NFT space has exploded in popularity in recent months, with artists, musicians, and global personalities developing digital representations of their content.
"The proliferation of NFT content from familiar household names and the jaw-dropping prices are attracting major interest from the public and creators who want to monetize their talents on this exciting new digital canvas. A global community of artists and creators are now deploying their skills in the rapidly expanding NFT space, making NFTs a core pillar of the creator economy," he says.

Jonathan Chen, Head of Operations at NFT platform Creaticles
NFT creators as a new class of influencers?
With the Metaverse expanding and new players innovating with unique use cases, established NFT creators are in high demand and are certainly a big part of the crypto universe.
Commenting on the importance of their role in educating people about NFTs, Lyle Solomon, from Oak View Law Group says the presence of NFT creators on various social media platforms helps people who want to learn more about NFTs and how they work.
"While their content may be limited today to making blog posts, Youtube videos, and TikToks on creating and minting new types of NFTs, the rising search interest for NFTs may compel NFT creators to focus their creativity on content that guides newbies on how to make NFT content"

Lyle Solomon, Oak View Law Group
Speaking about the challenges of integrating content by creators without seeming excessively promotional, Ali Fazal, VP of Marketing at GRIN says,
"Nobody minds being advertised to – most of us even like it, since it introduces us to new brands, travel destinations, products, etc. What we don't like is when it feels inauthentic. If there's a way to authentically integrate NFTs into creator content, then it will add value. However, if NFTs are shoehorned in where they don't make sense for a content creator's natural flow, then their audience will disengage."

Ali Fazal, VP of Marketing at GRIN
Social media influencers shifting toward promoting NFTs
Keyword interest in becoming an influencer is largely tied to the popularity and usage of social media. Although, Ahrefs indicates that interest in the term "How to become an influencer" has fallen over time and was 59% less popular than "How to make NFTs" in the period between January 16 and January 22, 2022.
With a large number of budding influencers having already entered this space, brands looking to partner with an influencer have an abundance of options from which to choose. Most, typically, select the most well-known ones to associate themselves with.
This, along with the rising popularity of NFTs, has contributed to a drop in interest amongst the general public in how to become an influencer, with existing social media influencers beginning to shift or dabble with NFTs and other cryptos as well.
With crypto adoption increasing rapidly across the globe, there are several opportunities for influencers who have worked with traditional brands to work with NFT projects.
R J Leer, Managing Editor at OnChain Crypto says the benefits of an influencer working with NFT projects include gaining access to a very engaged audience comprising of NFT collectors and enthusiasts, ultimately broadening their appeal to new demographics.

Murtuza Merchant
Murtuza Merchant is a senior journalist, having been associated with various publications for over a decade. An avid follower of blockchain tech and cryptocurrencies, he is part of a crypto advisory firm that advises corporates – startups and established firms on media strategies.