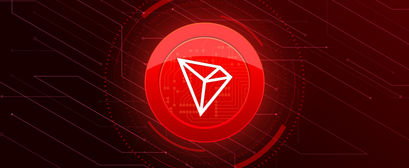 Tron Price Prediction: Concerns About USDD Stablecoin Remains

Crispus Nyaga
Last updated 11th Aug 2022
Tron price has staged a strong recovery in the past few days.
There are concerns about the USDD stablecoin.
Tron price has held relatively steady in the past few days as the demand for the coin rises. The TRX token is trading at $0.068, which is about 45% above the lowest level this month. Tron has a market cap of over $6.5 billion, making it the 14th biggest coin in the world.
USDD remains below its peg
Tron is a giant blockchain operating system that processes stablecoins worth billions of dollars every day. It does this through its popular DeFi protocols like JustLend, SUN.io, JustStables, ad Social Swap. JustLend has a total value locked (TVL) of more than $1.6 billion, giving it a market dominance of 38.50%.
The main reason why the TRX price has been in the spotlight is the recently launched USDD stablecoin. This is a relatively popular coin that was launched in May as Terra UST was imploding.
USDD is an algorithmic stablecoin that is supposed to remain at $1. Like other stablecoins, it is widely used in facilitating payments in the blockchain industry. It has become highly popular, which has pushed its total market cap to more than $715 million.
Recently, however, there have been concerns about the coin as it has remained stubbornly below $1. At the time of writing, the coin was trading at $0.98, which is a few points below its peg price.
Here's how to buy Tron.
In the past few weeks, the Tron Reserve DAO has been hard at work defending the peg. For example, this month, the DAO spent over $2 billion in Bitcoin, USDC, and TRx building its reserve. And on Friday, they spent $10 million buying USDD and TRX.
Still, the challenge for Tron is that defending a peg can be an extremely expensive thing. A good example of this is Hong Kong, which has pegged its currency to the US dollar. The city's central bank spends billions of dollars every year defending this peg. This year alone, it has spent over $21 billion doing that.
Tron price prediction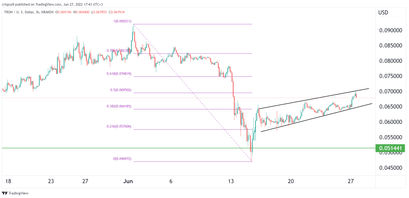 The three-hour chart shows that the TRX price has been in a bullish trend in the past few days. Along the way, the coin has moved close to the upper side of the ascending channel that is shown in black. It remains slightly above the 25-period and 50-period moving averages. It is slightly below the 50% Fibonacci retracement level.
Therefore, in my view, the Tron price will likely resume the bearish trend and retest the lower side of the ascending channel at $0.065.

Crispus Nyaga
Crispus is a financial analyst with over 9 years in the industry. He covers cryptocurrencies, forex, equities, and commodities for some of the leading brands. He is also a passionate trader who operates his family account. Crispus lives in Nairobi with his wife and son.