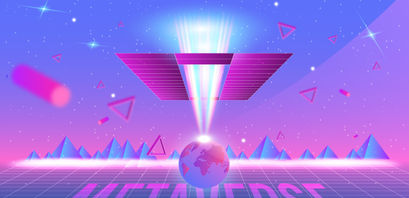 Metaverse Real Estate: Has the Hype Already Cooled Down?
The prices for land in the Metaverse increased by 700% in 2021
However, it remains to be seen if this upward trend is gonna continue
In 2021, virtual real estate prices in the Metaverse grew by an incredible 700%. Besides, this is only the beginning: the market is expected to grow 31% year-on-year in the next six years, as the rush to secure space within the virtual universe grows. Here, BanklessTimes.com takes a look into the state of Metaverse real estate in 2022.
Buyer demand
There was a significant boom in Metaverse real estate purchases in Q4 2021 when Facebook announced it would be renaming itself as Meta and investing heavily in the development of the Metaverse.
In 2021, sales of real estate within the Metaverse topped $500 million - and are predicted to double by the end of 2022. In June 2021, Decentraland sold one land package for $913,000, which the developer Everyrealm turned into a shopping district, Metajuku (drawing inspiration from the Harajuku district in Japan).
In December 2021, someone paid $450,000 to be Snoop Dogg's digital neighbour within the Snoop Verse, built in the Sandbox platform with a virtual replica of the rapper's house. In addition, a digital yacht from the same Fantasy Island series - called The Metaflower Super Mega Yacht - sold for $650,000.
Interestingly, about 70% of The Sandbox's 166,000 parcels have been sold - with around 20,000 people owning that share. Should the platform explode in popularity, it's not hard to see why those 20,000 people would be in a highly sought-after position.
How does virtual real estate compare to housing prices?
Housing prices across the world have been driven up by economic growth, interest rates, inflation, and a competitive market, and in England last year, average house prices were more expensive than in any other country in the world, reaching £288,129. Rising prices, paired with pay freezes, has meant that a housing crisis has swept across the nation - with 98% of key workers outpriced of home owning in Great Britain.
Although virtual real estate land parcels average at $12,000 - it is interesting to note that non-fungible tokens are selling for much, much more. A Republic Realm Fantasy Island reportedly has a floor price of close to $300,000 currently, with their NFT sale selling out in under 24 hours last year.
Additionally, the most expensive NFT ever sold was a Mega Yacht - selling for $650,000 in the Sandbox. The yacht - named the Metaflower Super Mega Yacht - is described as an 'ultra-luxury megayacht', complete with a hot tub, helipads, and DJ booth.
What is Metaverse real estate?
The Metaverse was first coined in Neal Stephenson's 1992 book Snow Crash, which envisions a virtual world in which people essentially use a digital avatar to explore the online world.
The concept is being heavily invested in by companies such as Microsoft, Roblox, Facebook (Meta), and Apple, all of whom are planning their own Metaverses which, when fully realised, could even replace the internet as we know it altogether,
Metaverse real estate, then, is the term used to refer to digital property that exists within the Metaverse - virtual worlds. These digital properties are called 'parcels', and there are a finite number of these parcels on offer.
The Meta effect
In October 2021, Facebook changed the name of its holding company to Meta in order to focus on the Metaverse. This triggered an effect now called the "Meta Effect", in which prices for virtual real estate rose by as much as 700%. For example, SAND - the cryptocurrency of The Sandbox Metaverse platform - trades rose by 748% from $0.99 prior to Facebook's announcement to a high of $8.40, although this did level out again.
How much does property cost in the Metaverse?
In December 2021, the average price per parcel for land reached $12,000 in each of the main four Metaverses (The Sandbox, Decentraland, Somnium Space, and Crytovoxels).
Despite sales of virtual real estate cooling off somewhat since, the average price remains relatively stable. In Q1 2022, the price per parcel for land in these spaces was averaging:
$11,899 in Decentraland

$10,549 in The Sandbox

$8,461 in Crytovoxels

$15,901 in Somnium Space
Additionally, younger projects such as Worldwide Webb and NFT Worlds, newly established in Q4 2021, are off to a strong start in 2022, with the average price per land parcel increasing by 442% in NFT Worlds, and 173% in Worldwide Webb.
Is virtual real estate likely to increase in price?
Despite the relative uncertainty of the future of the Metaverse landscape and exactly what it will look like, it's likely that the cost to acquire Metaverse land will only go up. A large part of this is due to land scarcity within the Metaverse.
While the Metaverse is still in its early stages, if it becomes a place where millions or even billions of people visit every day, virtual real estate will become extremely valuable and therefore appreciate in value.
Of course, this is a high risk investment at the moment; whether or not virtual real estate will increase in value depends entirely on the assumption that in years from now, the Metaverse platforms are relevant and popular.
Has the hype already cooled off?
Virtual real estate sales have dropped compared to the initial rush to buy property since Facebook announced they were rebranding to 'Meta' in October 2021. The main reason is because the world is still working out how NFT's fit in - how businesses can profit from them, how they'll enhance user experience for brands, and ultimately, drive sales. This ties in to the suggestion that the value isn't really in owning land in the Metaverse - it's what you do with it.
What are the risks to investing in virtual real estate?
There are a number of risks associated with investing in virtual real estate. It is a high-risk bet, for a number of reasons:
Platform risk: The Metaverse is still very much a concept in its earliest days, and the four major players are still establishing themselves - which leaves a large element of risk. While investing now could pay off if these platforms began to gain millions of users in the coming years - it's also possible that the entire Metaverse concept could fizzle into nothing, meaning anyone who invested in the platform's operating today could risk losing their money altogether.
User worth: Location is not so much of an issue when buying real estate in the virtual world because there, users can teleport between locations at the click of a button. What's really important, then, is what you build on it.
Jonathan Merry, CEO of BanklessTimes.com, comments:
"The disparity is clear. While millions of people are unable to buy a home for themselves, others are spending almost double the average house price on virtual property. What's more, as Metaverse updates are unveiled in the next few years, virtual real estate prices are only going up - it will be interesting to see if we are we facing a future in which a virtual piece of land costs more than your average home in the real world."

Jonathan Merry, CEO of BanklessTimes.com