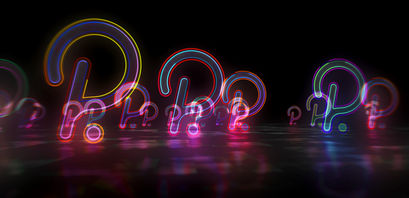 Polkadot Price Prediction: DOT to Crash to $5 if This Happens

Crispus Nyaga
Last updated 5th Aug 2022
Polkadot price has crashed by 87% from its all-time high.
There are concerns about the market dominance of its parachains.
Polkadot price retreated slightly on Friday as investors started taking profit following the recent rebound. DOT is trading at $7, which is slightly below this week's high of $7.45. DOT has fallen by over 87% from its all-time high, bringing its total market cap to over $7.9 billion. At its peak, it was valued at more than $20 billion.
Polkadot ecosystem challenges
Polkadot is a leading blockchain project that was created by Gavin Wood, a co-founder of Ethereum. The platform is significantly different from other smart contract projects like Solana and Cardano. That is because its goal is to unite a network of heterogeneous blockchains known as parachains.
These parachains are then connected and secure by the Polkadot Relay Chain. Most importantly, these parachains can also connect to other networks with external networks via bridges. Another difference is that Polkdaot has a separate blockchain platform known as Kusama that acts as a place for developers to test their applications.
Most importantly, Polkdaot has a unique process known as parachain auctions. This is a process where parachains developed using the network go through an auction process. In these auctions, the apps compete for funding in the form of the DOT token. Some of the past winners of these parachain auctions are Acala, Moonbeam, Efinity, and Karura.
Here are the best places to buy Polkadot.
Polkadot price has crashed by over 87% from its all-time high for two main reasons. First, the crash is in line with the performance of other cryptocurrencies like Bitcoin, Cardano, and Ethereum. Indeed, all cryptocurrencies have crashed hard in the past few months because of the rising fear of a hawkish Federal Reserve.
Second, DOT price has retreated because of the plummeting activity of the network's parachains. For example, Karura's DeFi apps have a TVL of just $27 million. Acala has a TVL of over $293 million, with LCDOT having dominance of almost 60%.
Polkadot price prediction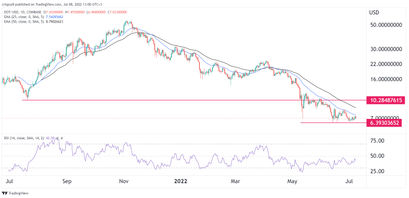 The daily chart shows that the DOT price has been in a strong bearish trend in the past few months. This decline saw it crash to a record low of June. Now, it is trading at $7, which is higher than its all-time low. At the same time, the coin's bearish trend is being supported by the 25-day and 50-day moving averages while the RSI is at the neutral level of 40.
Therefore, the outlook for the coin is still bearish, with the next key support being at $6.39. A drop below that level will signal that there are more sellers in the market. As such, it will move to the support at $5.

Crispus Nyaga
Crispus is a financial analyst with over 9 years in the industry. He covers cryptocurrencies, forex, equities, and commodities for some of the leading brands. He is also a passionate trader who operates his family account. Crispus lives in Nairobi with his wife and son.