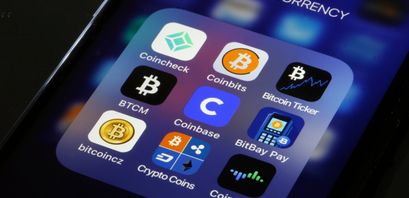 Jasmy Coin Price Prediction: Is this IoT Crypto a Good Buy?

Crispus Nyaga
Last updated 5th Aug 2022
Jasmy Coin is a small-cap Japanese cryptocurrency.
The coin has been rebounding as it launches the Sagan Tosu fan token.
We explain whether Jasmy is a good coin to buy.
The Jasmy Coin price has pulled back in the past few days as the recent bullish momentum fades. The small-cap coin is trading at $0.0105, which is about 14% below the highest level during the weekend. According to CoinGecko, Jasmy has a market cap of over $50 million.
What is Jasmy crypto?
Jasmy is a relatively small cryptocurrency that was created by former senior executives at Sony, one of the biggest entertainment companies in Japan.
The IoT platform is in the fast-growing industry of data and privacy management. It aims to make it easy for companies to manage their customers' data well. At the same time, Jasmy helps to ensure that people have a clear understanding about how their data is being used by companies.
The Jasmy Coin price has been in a recovery mode in the past few days as investors cheer the upcoming launch of the Sagan Tosu fan token. A fan token is a financial asset that lets fans participate in the running of their favorite clubs. Most of the existing fan tokens have been built using technology provided by Chiliz.
The Sagan Tosu fan token, which will be bought in Japanese yen, will be used to fund players for the team. It will also have an NFT component. According to its website, the fan token will start trading in September of this year.
Where to buy Jasmy
Jasmy is a relatively small cryptocurrency, meaning that it is not offered by most exchanges. Some of the most popular exchanges that sell Jasmy are Coinbase, Binance, eToro, Kraken, and KuCoin. To buy it, you just need to create an account, deposit funds, and then complete your purchase.
Read our reviews of eToro, Binance, and Kraken to find the best broker to buy Jasmy and other cryptocurrencies.
Jasmy Coin price prediction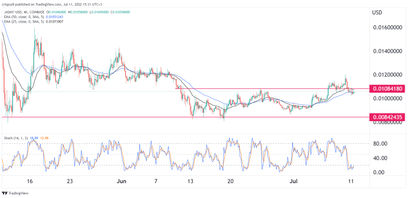 The four-hour chart shows that Jasmy has been in a recovery mode in the past few days. It has managed to rise above last month's low of $0.0084 to the current $0.0105. The coin is trading along the 25-day and 50-day moving averages. It has also moved slightly below the important support level at $0.0108, which was the highest point on June 27th.
Therefore, there is a likelihood that Jasmy Coin will likely continue the downward trend as sellers target the key support at $0.0096. A move above the support at $0.0012 will invalidate the bearish view,

Crispus Nyaga
Crispus is a financial analyst with over 9 years in the industry. He covers cryptocurrencies, forex, equities, and commodities for some of the leading brands. He is also a passionate trader who operates his family account. Crispus lives in Nairobi with his wife and son.