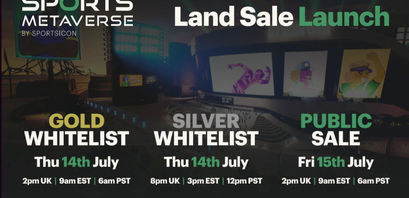 SportsIcon Sports Metaverse Opens Public Land Sale on July 15

Daniela Kirova
Last updated 5th Aug 2022
The Sports Metaverse will unite leading clubs, brands, and sports stars in one place
In the longer term, there will be immersive 3D experiences, social spaces with big screens
The initial public land sale of the Sports Metaverse by SportsIcon, the first virtual world focusing on sports, will take place on Sportsmetaverse.co on July 14 and 15, Bankless Times learned from a press release.
Uniting leading clubs, brands, and athletes
The Sports Metaverse will unite leading clubs, brands, and sports stars in one place. Users can buy land, trade NFTs, visit stadiums, and interact with iconic athletes. You can acquire a fan cave in the first phase, where you can hang out with friends, stream sports events, customise NFTs, rent land out, play pool, etc.
Social spaces, 3D experiences
In the longer term, there will be immersive 3D experiences, social spaces with big screens and retail, and other interesting options. You can order special purpose land from the Sports Metaverse.SportsIcon CEO and Co-Founder Chris Worsey said:
We've assembled the best metaverse builders in the space, the most forward-thinking web3 brands and some of the biggest sports people of all time. The Sports Metaverse is the new frontier - the future of sports is billions of fans instantly connected with one another, their sports icons and brands in the metaverse. The Sports Metaverse land sale is the first page of the first chapter of that journey.
Digital assets meet eBay
The Metaverse and LandWorks have joined forces to optimize the appeal of the former's virtual real estate, making operating with it as easy as buying an item on eBay. LandWorks' technology will let VR landowners rent their land permissionlessly.
Prospective tenants will bid on the prices set by landowners. This technology supports Decentraland and has undergone audits by Omega and Quantstamp successfully. A potentially lucrative market
VR real estate market has a lot of potential
It's appealing to investors, star athletes, and companies. Gartner predicts that every fourth person will be spending at least seven hours a week in the metaverse by 2026.
According to estimates by Goldman Sachs, the metaverse is worth $8 trillion as a market opportunity. The chances to earn are virtually unlimited. You can do it by renting out galleries, museums, concert and sports arenas, etc.
Amanda Nunes and Shaun Philips among the investors
Amanda Nunes, UFC mixed martial arts champion and Shaun Wright Philips and Jordan Stewart of football Premier League fame are among the early investors in the Sports Metaverse land presale.
How will it work?
The land sale starts on July 14 at 14:00 UK time in the Sports Metaverse with the Gold Whitelist. The Silver Whitelist will follow six hours later. The public sale opens on July 15 at 14:00. You will need a MetaMask wallet to buy land and make payment in ether.
Daniela Kirova
Daniela is a writer at Bankless Times, covering the latest news on the cryptocurrency market and blockchain industry. She has over 15 years of experience as a writer, having ghostwritten for several online publications in the financial sector.