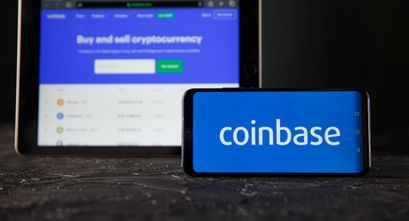 Coinbase to halt US affiliate program citing tough crypto market

Jinia Shawdagor
Last updated 31st Jan 2023
Coinbase to temporarily suspend US affiliate program.
Exchange cites the current crypto market and a gloomy outlook for the decision.
Cryptocurrencies show slight recovery amid extended bearish momentum.
Cryptocurrency exchange Coinbase plans to suspend its affiliate program in the US from July 19. The publicly traded firm has cited the current market conditions and negative outlook for its decision.
Coinbase has informed its partners in a newsletter to remove all the US affiliate links before the deadline. The note added that users' IO would be updated to show the US as the restricted region. The exchange has asked that all the queries be directed to its accelerator program link. All the updates will reportedly be availed to the users, factoring in market trends.
Coinbase's latest update comes as the exchange witnesses a shrinking market share. The company's shares have plummeted 84% from an ATH of $357 to the current $53.42.
The firm's outlook also remains gloomy, coming after Goldman Sachs downgraded the stock to a sell rating in June. The downgrade is reportedly linked to the reduction in trading activities following a crypto crash as well as a slow down in the trading volumes.
Coinbase operational challenges mount amid crypto winter
Coinbase Chief Executive Officer Brian Armstrong announced an 18% workforce reduction in June, affirming the struggles facing the digital asset exchange. The accompanying executive statement added that the economic conditions were becoming tough and could culminate in a recession. Armstrong maintained that it was critical that the company cut costs and enhance efficiency.
Generally, the overall crypto market has seen the insolvency of key service providers. Crypto lender Celsius recently sought US bankruptcy protection after halting customer withdrawals due to bearish market sentiment. Three Arrows Capital and BlockFi are other companies that have faced insolvency as crypto lenders and hedge funds crack under pressure.
The high rate of inflation and the US Federal Reserve's interest rate hike are some factors that have kept cryptocurrencies in an extended bearish momentum. Despite a slight price recovery, crypto trades crypto remains largely bearish. Bitcoin was trading at $20,946 at press time after a 0.24% increase in the past day, while Ethereum was at $1,259 after a 5.40% increase in the same period.
Jinia Shawdagor
Jinia is a fintech writer based in Sweden. With years of experience, she has written about cryptocurrency and blockchain for renowned publications such as Cointelegraph, Bitcoinist, Invezz, etc. She loves gardening, traveling, and extracting joy and happiness from the little things in life.