Coinbase Pro was launched in 2017 under the previous name Global Digital Asset Exchange (GDAX); it was an extension of Coinbase, established in 2012 in San Francisco. This particular project was directed towards those experienced and more active traders.
The platform offers cheaper rates on high volume trades, tools for good technical analysis and advanced trading, and zero fees on cryptocurrency deposits and withdrawals.
Here are some of its best features:
Provides smart-chart indicators to help users make more informed trading decisions

Excellent liquidity, with one of the most significant trading volumes of USD

Security protocols like two-factor authentication and biometric fingerprint identification

A good range of cryptocurrencies on offer (130+)

Educational resources that can earn you up to $150 of cryptocurrency upon completion
Coinbase Pro Overview
| | |
| --- | --- |
| 💼 Provider Type: | Exchange |
| 💸 Minimum Deposit: | $2 |
| 💰 Trading Fees: | Varied |
| 💰 Deposit Fees: | Varied |
| 💰 Withdrawal Fees: | Varied |
| 💰 Management Fees: | No |
| 🔀 Minimum trade order | $2 |
| ⌛ Withdrawal Timeframe: | Up to 24 hours |
| #️⃣ Number of Cryptocurrencies Supported: | 130+ |
| #️⃣ Number of Crypto Pairs Supported: | 400+ |
| 💱 Top supported Cryptocurrencies: | BTC, ETH, SHIB, MATIC, SOL |
| 📊 Leverage: | None |
| 📱 Native Mobile App: | Yes |
| 🖥️ Free Demo Account: | No |
| 🎧 Customer Support: | Email, Twitter, Phone |
| ✅ Verification required: | KYC |
| 📈 CFD Available | No |
| 📊 Software: | Website, web app, mobile app |
| ⚽ Social Trading: | No |
| ✂️ Copy Trading: | No |
| 👮‍♂️ Regulators | Regulated within the US and other supporting countries. It complies with The Bank Secrecy Act, USA Patriot Act, and is registered as a money services business with FinCen |
Pros and Cons of Using Coinbase Pro
Pros
An easy-to-use and engaging user interface
No withdrawal fees for cryptocurrencies
Robust levels of regulation and security features
Advanced trading tools and features that other market competitors don't offer
Low fees on high volume trades
Cons
Not beginner-friendly
Generally higher fees when compared to industry competitors
Slow response time for customer support
Coinbase Pro Cryptocurrencies and Trading Options
What cryptocurrencies can you trade on Coinbase Pro?
Coinbase offers a great range of cryptocurrency coins and tokens, supporting over 130 of them.
Here are the five most popular cryptocurrencies on the platform:
Bitcoin: (BTC/USDC, BTC/USDT, BTC/ETH)

Ethereum: (ETH/USDC, ETH/USDT, ETH/BTC)

Shiba Inu: (SHIB/USDC, SHIB/USDT, SOL/BTC)

Polygon: (MATIC/USDC, MATIC/USDT, MATIC/BTC)

Solana: (SOL/USDC, SOL/USDT, SOL/BTC)
There are over 400 available pairs. But, your access to them will depend upon your location, so we advise checking this on the Coinbase website.
Different Trading Options Offered by Coinbase Pro
Trading options on Coinbase Pro are certainly more advanced than most industry competitors. It offers more traditional services like spot markets, market orders, limit orders and stop orders – these are the different ways you can make trades (buying and selling).
Additionally, you have interactive charts powered by trading view, real-time order books and live trade history – these are the tools to make more informed trades.
Can I Trade With Leverage on Coinbase Pro?
No — there has been a recent suspension on margin trading.
What Are the Spreads?
Spreads are expressed differently to other platforms – there is a 2% service charge that is included in the exchange.
Fees, Limits, and Payment Options on Coinbase Pro
What Are the Deposit and Withdrawal Fees, Limits, and Speeds?
Fees on Coinbase Pro are cheaper than its parent exchange Coinbase but more expensive when compared to its industry competitors. Deposits and withdrawals are free for cryptocurrencies, but other methods incur high fees. Speeds are relative to the industry average, with some methods like bank transfer performing poorly.
Deposit Methods
Bank account (takes 3-5 business days)

Debit card (only available to buy assets; speed is instant)

Wire transfer (1-3 business days; $10 fee)

PayPal (instant)

Apple Pay (only available to buy assets; speed is instant)

Google Pay (only available to purchase assets; speed is instant)
Deposits are unlimited, and all require relevant KYC regulations. Fees are zero.
Withdrawal Methods
Methods are the same as deposit methods. It is worth noting some of these are not supported, like Apple Pay, Google Pay and Debit Card.
Withdrawal limits are up to $50,000. Wire transfers incur a $25 fee, and crypto conversions can be as high as 2%.
How Much Are Coinbase Pro's Fees and Commissions?
The fees to take note of are maker/taker fees. They are notably higher than their industry competitors.
Fees vary depending on your trade volume, with the smallest trades incurring 0.5% maker/taker fees and the largest as small as 0.04/0%.
There are also hidden fees, such as the integrated spread and some withdrawal fees.
Coinbase Pro Trade Sizes and Limits
There are no limits to the number of orders you can place, but there are limits to trade sizes. You will need to check the live market information to calculate these.
For example, a minimum Bitcoin transaction would be 0.000016, with a 230 maximum.
Coinbase Pro Trading Platform
What Devices Can I Use Coinbase Pro On?
Coinbase Pro is available on its desktop and mobile platform. Both offer similar features, good functionality and an easy-to-use interface. However, Coinbase Pro isn't designed with beginner traders in mind.
Mobile phone application: A good user interface with a straightforward layout. It can be downloaded from the app store for free (iOS and Android). Enables users to trade, deposit, withdraw and use the wide range of features it offers, such as: real-time smart charts, trade history, order book, etc. Verification is not available using the mobile app.

Desktop platform: Well designed, technically focussed and geared towards experienced traders. Conduct trades, manage your portfolio and conduct complex analysis with advanced smart charting tools (e.g. moving averages and exponential averages).
Can I Use Coinbase Pro in Any Country?
Coinbase Pro is available in over 100+ countries. Some places like Hawaii and China do not facilitate the platform.
Here are the four main countries it supports:
Is Coinbase Pro Available in My Language?
Coinbase Pro is available in six languages. The main four are:
English

French

Spanish

Dutch
How Easy Is It to Use Coinbase Pro?
Coinbase Pro offers a user-friendly interface on both mobile and desktop devices. The trading screen houses your order book, order form, wallet balance, price charts and trade history all on one screen – and it looks good.
It can be challenging for a platform to provide advanced trading capabilities while simultaneously being easy-to-use, but the consensus is Coinbase Pro is one of the best at doing it.
Key Features
The most significant features of Coinbase Pro are clearly focused on experienced traders.
Attractive interface
The design is consistently effective on every device in functionality and digestibility. It looks slick, modern and well-thought-out.
Lower fees for high trade volumes
This again highlights the target audience of advanced traders. Fees are near zero for those whale-level trades over $1bn.
Advanced charting tool
Smart real-time charting tools provide access to moving averages and exponential moving averages.
Security and Regulation
Is Coinbase Pro Safe?
Coinbase Pro offers a range of security features like two-step verification, biometric fingerprint login, and AES-256 encryption for its wallet. Most funds are also kept in cold storage.
While these features are positive, they are an industry standard for exchanging this size.
Am I and My Cryptocurrency Protected?
Coinbase insures the 2% of funds held on hot storage in the event of a loss.
Is Coinbase Pro Regulated?
Yes. Coinbase Pro is fully licensed and regulated within the US and other supporting countries. It complies with The Bank Secrecy Act, USA Patriot Act, and is registered as a money services business with FinCen,
Do I Have to Verify My Account With Coinbase Pro?
Yes. If a platform is regulated as much as Coinbase Pro, there will be accompanying KYC and AML regulations the platform must apply. To trade on Coinbase Pro, you will need:
Relevant ID/passport

Proof-of-address

Phone number
Extra Information
Educational Resources
Coinbase Pro has a great range of educational resources and performs exceptionally well compared to industry competitors. There is a blog that discusses various topics in the industry, written and video tutorials, and a way to earn up to $150 of cryptocurrency just by watching informative videos.
Tools and Charting
Coinbase Pro's tools are above average compared to industry competitors. It is worth noting they are directed towards advanced traders and won't necessarily improve the interface of a beginner.
Coinbase Pro offers real-time charting tools with moving averages and exponential moving averages and price charts.
While there is a good choice of tools and charting, some features are somewhat limited. For example, there are only two indicators and overlays for charts.
Customer Support
Customer support is one of the weakest elements of the Coinbase Pro platform. Response time is widely considered lengthy and time-consuming, while your available support methods are limited and restrictive.
Users can get support via email or Twitter. If you need to close your account, you can use phone support.
How to Buy and Sell Cryptocurrency on Coinbase Pro
How to Buy Crypto on Coinbase Pro
Step 1: Visit Coinbase Pro's Official Site & Sign Up
Step 2: Verify Your Identity
Step 4: Browse the "Buy/Sell" Tab
You can read more about purchasing cryptocurrency here.
How to Sell Crypto on Coinbase Pro
Step 1: Open the web trader or mobile app.

Step 2: Click the "buy/sell" tab.

Step 3: Click the cryptocurrency that you wish to sell.

Step 4: Select the amount of your cryptocurrency you want to sell and then input the price at which you would like to sell it if you are making a limit order or executing the trade at market price. Then, complete your order.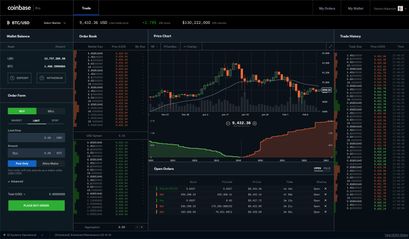 Step 5: Wait for the trade to be executed, and then find your funds in your wallet.
Is there an alternative to Coinbase Pro?
Yes, there are many more ways to trade cryptocurrencies. Check out some of our reviews for the best brokers:
1
Minimum Deposit
$50
Exclusive Promotion
More than 3,000 assets, including currencies, stocks, cryptocurrencies, ETFs, indices and commodities
Buy crypto, or trade cryptocurrencies via CFDs
This ad promotes virtual cryptocurrency investing within the EU (by eToro Europe Ltd. and eToro UK Ltd.) & USA (by eToro USA LLC); which is highly volatile, unregulated in most EU countries, no EU protections & not supervised by the EU regulatory framework. Investments are subject to market risk, including the loss of principal.
2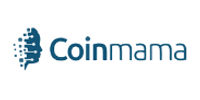 Minimum Deposit
$100
Exclusive Promotion
Crypto assets are highly volatile and largely unregulated. There is no guarantee that any crypto asset will have at any time in the future certain value (if any) or market liquidity. Crypto assets are at risk of losing substantial (or all) value within a short time period.
Final Thoughts
Coinbase Pro is a valid option for advanced traders trading with high volumes. Anything outside of this definition becomes significantly less competitive compared with industry competitors.
You have good access to some advanced trading tools, which is one of the platform's strengths. Also, the platform looks great and balances technical functionality with a simple interface. As one of the biggest exchanges on the market, it delivers robust regulation and good security features.
Find out More About Brokers
Amala Pillai
Amala is custom content and news editor based in London. She is a former financial journalist based in Singapore with 7 years of experience covering a range of business and financial topics. Now she focuses on crypto and macro-economics. She has also covered feature profiles, tech, business politics and ESG— she was the Environment Editor for the Solutions Newspaper, 2016 and worked in an editorial capacity at both News corp (Dow Jones) and JBN. She also has experience as a content creator, strategist and brand editor for various financial institutions and banks.