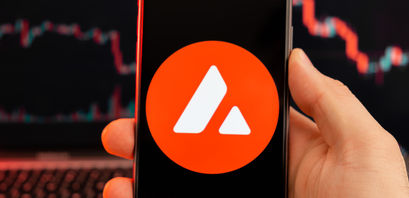 Avalanche Price Prediction: AVAX Prepares a 30% Jump

Crispus Nyaga
Last updated 11th Aug 2022
Avalanche price has jumped by 75% from the YTD low.
It has done a break and retest pattern as it looks to jump by 30%.
Avalanche price has been in a strong comeback recently as altcoins have bounced back and as it TVL has risen. The AVAX token rose to a high of $26.57, which was the highest level since June 6th of this year. It has risen by over 75% from its lowest point this year.
DeFi recovery in process
There are several reasons why the AVAX token has done well in the past few days. The first one is that most altcoins have rallied helped by the strong performance of Ethereum. Ether soared from a low of $800 to over $1,500 this week as investors cheered the upcoming merge event.
Merge is the process where the current version of Ethereum will merge with the Beacon Chain. Historically, cryptocurrencies tend to move in sync with each other. They also tend to track the performance of American stocks.
Second, Avalanche price has risen because of the feeling that cryptocurrencies have survived the most difficult part of the industry. In the past few months, the market has seen several popular platforms go out of business. They include companies like Voyager Digital, Three Arrows Capital, and Celsius.
Find out how to buy Avalanche.
As these companies imploded, most analysts priced in a contagion risk in the market. However, these risks were highly overblown and the industry seems like it has survived.
Third, the AVAX token has risen because of macro factors. Analysts expect that the Federal Resrve will be less hawkish than what they were expecting last week. Most analysts see a situation where the Fed hikes interest rates by 0.75% next week. While this is a big hike, it will be lower than the previous estimation of a 1% increase.
Finally, Avalanche's ecosystem has bounced back. For example, most DeFi apps in the platform have seen their TVL rise by more than 20% in the past 30 days. This includes platforms like Trader Joe, Aave, and Benqi. The combined TVL has surged to over $3 billion.
Avalanche price prediction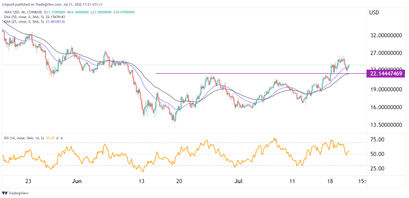 A quick look at the 4H chart shows that the AVAX token has been in a strong bullish trend in the past few days. It managed to move above the important resistance point at $22.14, which was the highest point on June 24th. It dropped and retested this point on Thursday, in a classic break and retest pattern.
Therefore, Avalanche price will likely continue rising as bulls attempt to move above $30, which is about 30% above the current level.

Crispus Nyaga
Crispus is a financial analyst with over 9 years in the industry. He covers cryptocurrencies, forex, equities, and commodities for some of the leading brands. He is also a passionate trader who operates his family account. Crispus lives in Nairobi with his wife and son.