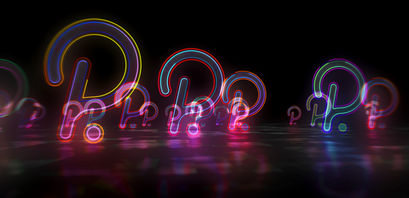 Polkadot Price Prediction for August: Bottoming Signs Emerge

Crispus Nyaga
Last updated 11th Aug 2022
Polkadot price has staged a strong recovery in the past few weeks.
The developers unveiled a new governance protocol in July.
Polkadot price had a strong performance in July as cryptocurrency prices bounced back. DOT has rallied in the past seven straight days and is now hovering at the highest point since June 10th. It has risen by over 44% from its lowest level this year.
DOT July review
Polkadot is a blockchain project that was created by Gavin Wood, a co-founder of Ethereum. The platform connects a network of heterogeneous blockchain shards known as parachains. These chains are connected by the Polkadot Relay Chain. At the same time, they can connect to other blockchains like Ethereum and Cosmos Hub using bridges.
The Polkadot ecosystem has other key stakeholders. For example, validators secure the relay chain by staking their DOT coins while collators maintain shards by collecting shard transactions from users and producing proofs for validators. It also has nominators and fishermen.
Polkadot has grown its ecosystem in the past few months. Unlike other blockchains, Polkadot's ecosystem expands through a concept known as sharding where people vote and provide liquidity to their preferred chains. The most common projects in the ecosystem are MoonBeam, MoonRiver, Astar Network, and Acala Network.
Learn more about how to buy Polkadot.
Polkadot price staged a strong performance in July as Bitcoin and other altcoins jumped. Bitcoin jumped above $24,000 for the first time in months while Ethereum led the rally as it jumped above $1,700. The rally happened as investors cheered the strength of the Decentralized Finance (DeFi) industry.
Meanwhile, it rose after the developers announced the introduction of Gov2. The new governance system hopes to solve the issues with the current system. While most part of the current system will change, it will lower the barriers, meaning that it does away with "first class citizens" in the platform. For a proposal to go through currently, there is the council and the technical committee.
Polkadot price prediction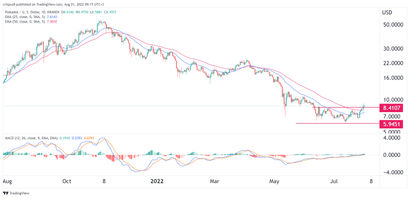 The daily chart shows that the DOT price has been in a strong bearish trend in the past few months. Precisely, it dropped by about 88% from the highest level in 2021. The coin has found a strong support at $5.9451. It has also managed to move above the 25-day and 50-day moving averages. The two are close to making a crossover.
Polkadot price also managed to move above the important resistance level at $8.4100, which was the highest level in June. Therefore, the coin will likely keep rising as bulls target the key resistance at $10, which is about 15% above the current level.

Crispus Nyaga
Crispus is a financial analyst with over 9 years in the industry. He covers cryptocurrencies, forex, equities, and commodities for some of the leading brands. He is also a passionate trader who operates his family account. Crispus lives in Nairobi with his wife and son.