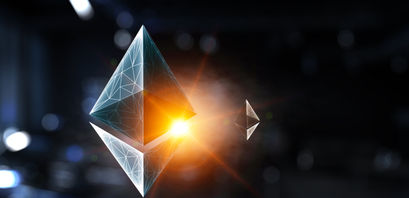 Ethereum Name Service (ENS) Price Surges as Domains Surge

Crispus Nyaga
Last updated 11th Aug 2022
Ethereum Name Service price has surged by 127% from the YTD low.
The number of domains in the network has surged to over 1.8 million domains.
Ethereum Name Service price jumped sharply on Wednesday as demand for the coin rose. The ENS token's prose to a high of $16.81, which was the highest point since May 9th of this year. It has jumped by more than 127% above the lowest level this year. Its market cap has jumped to over $422 million.
Ethereum Name Service demand rises
Ethereum Name Service is a leading blockchain project that seeks to disrupt the domain registry industry. This is a sector that is currently dominated by the likes of GoDaddy and HostGator. It competes with platforms like Unstoppable Domains.
The platform helps people register their domains with the eth suffix. As a result, it can help people have their domain names and own decentralized websites. Most importantly, the platform has become an essential part of the Non-Fungible Token (NFT) industry.
The ENS price has jumped sharply as demand for the coin rises. The network saw over 378k .eth domain registrations in July. It now has over 1.86 million users and has generated over $6.8 million in protocol revenue fee. These fees are all distributed to the decentralized autonomous organizations (DAO).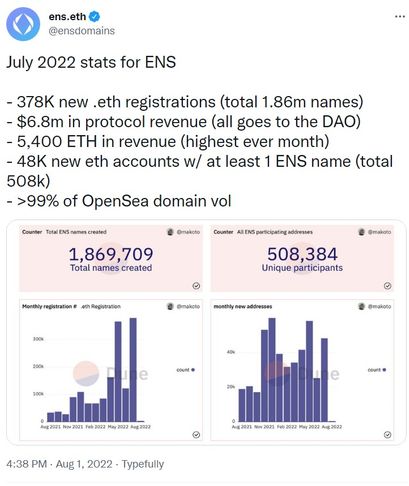 Analysts believe that the number of registrations has surged because of the upcoming Ethereum merge. Merge is an important event that will completely change how Ethereum works by transitioning it from a proof-of-work (PoW) and proof-of-stake (PoW) network. Still, it is unclear how the merge will impact Ethereum Name Service activity.
Another reason why domain usage has risen is the falling gas fees in Ethereum's network. Gas fees have fallen sharply in the past few months as activity in the network has dropped. Further, the network has started supporting non-English domains.
ENS price prediction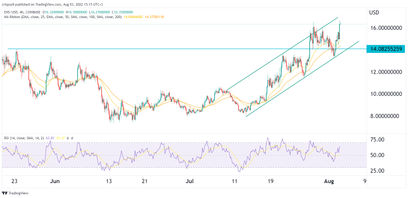 The four-hour chart shows that the Ethereum Name Service price has been in a strong bullish trend in the past few weeks. The coin managed to move above the important resistance level at $14.08, which was the highest level on May 23rd.
ENS price remains above the 25-day and 50-day moving averages. The Relative Strength Index (RSI) has continued rising and is approaching the overbought level. Therefore, the coin will likely keep rising as bulls target the next key resistance level at $20. A move below the support level at $15 will invalidate the bullish view.

Crispus Nyaga
Crispus is a financial analyst with over 9 years in the industry. He covers cryptocurrencies, forex, equities, and commodities for some of the leading brands. He is also a passionate trader who operates his family account. Crispus lives in Nairobi with his wife and son.