Bitgert price went parabolic and rose to its June high.
The developers teased that a big announcement was coming.
They noted that this announcement will be a game-changer.
Bitgert price went parabolic on Monday after the developers teased of a major announcement in the coming days. BRISE rose to a high of $0.0000010, which was the highest level since March this year. At its peak, the coin was up by over 288% from its lowest level this year.
Big announcement coming
Bitgert is a relatively small Ethereum-killer that hopes to become the preferred platform for building applications. According to its developers, Bitgert is substantially faster than Ethereum since it can handle thousands of transactions per second (TPS). Its TPS is approximately 100k.
Bitgert also has substantially lower costs than other platforms like BNB, Cardano, Ethereum, and Solana. According to its website, it can process millions of transactions for just a few cents. The network has already processed over 900k transactions in the past few months.
Bitgert is a relatively young competitor to Ethereum. As a result, its ecosystem is significantly small. Some of the top applications in its ecosystem are Knit Finance, BriseSwap, Icecream Swap, Sphynx Labs, and Midas NFT Marketplace.
According to its Block Explorer, the average block time is 15 seconds while the current block is 1,063,370. The number if transactions in the network has been rising recently.
Bitgert price rose sharply as the developers teased that a big announcement was coming. They noted that this announcement will be a game changer. As a result, the BRISE token jumped as investors anticipated the upcoming event.
In another tweet, the developers noted that the platform will deliver extensive promotions and marketing campaigns for its ecosystem. Further, the Bitgert chain nodes will be upgraded for better performance. Also, there will be additional grants and partnerships for the ecosystem.
Bitgert price prediction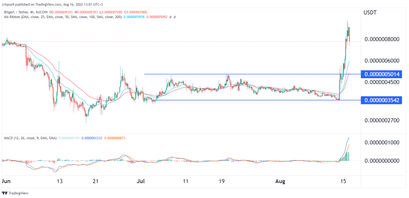 The four-hour chart shows that the BRISE price went parabolic this week. As it rose, it managed to move above the important resistance point at $0.00000050, which was the highest point on July 20th. The coin has managed to rise above the 25-day and 50-day moving averages while the MACD rose above the neutral point.
Therefore, there is a likelihood that the coin will resume the bearish trend as bears target the support at $0.00000050. This will happen because of the concept known as buy the rumour, sell the fact.
Author Bio

Crispus Nyaga
Crispus is a financial analyst with over 9 years in the industry. He covers cryptocurrencies, forex, equities, and commodities for some of the leading brands. He is also a passionate trader who operates his family account. Crispus lives in Nairobi with his wife and son.