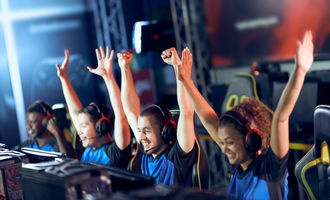 Bitcoin Leads as the Most Popular Crypto for eSports Fans in the UK

Nellius Mukuhi
Last updated 31st Jan 2023
The eSport culture is growing in popularity in the UK.
That growth has come with the increased adoption of cryptocurrencies for in-game transactions.
UK eSports fans prefer Bitcoin over any other cryptocurrency.
eSports are video games played competitively by spectators. The industry is gaining popularity, with events held worldwide and prize pools sometimes reaching millions of dollars. The UK is no exception, with a rapidly growing eSports scene.
This rise in eSports popularity has also led to an increase in interest in cryptocurrencies. These digital assets are vital to purchasing in-game items and wagering on games. Some of these cryptocurrencies have gained popularity among the UK gaming community.
According to a BanklessTimes data presentation, Bitcoin (BTC) is the most popular cryptocurrency among eSports fans in the UK. The site has provided data showing that 6% of British gamers preferred using BTC over other cryptos.
Why is Bitcoin Popular With UK eSports Fans?
BanklessTimes CEO Jonathan Merry explained:
BTC offers several benefits for gamers. For one, it's fast and easy to use. Gamers can make payments with BTC without having to go through a bank or other financial institution. That means they can get their eSports fix without having to worry about fees or slow transaction times.

Jonathan Merrry, CEO of BanklessTimes.com
Merry also holds that BTC is secure and reliable. With blockchain technology, gamers can be sure that their money is safe and that their transactions are private. That's important for eSports fans, who often deal with sensitive personal information.
Finally, BTC is becoming more and more accepted by eSports organizations. That means gamers can use BTC to pay entry fees, buy in-game items, and more.
ETH and XMR top the Preferred Altcoins List
BanklessTimes' presentation showed that 4% of UK gamers prefer to use Monero (XMR) and Ethereum (ETH). Ripple (XRP) comes in a close third with 3%. So why are these alternative cryptocurrencies so popular among eSports enthusiasts?
For one thing, they're all incredibly fast. Ethereum, for example, can process around 15 transactions per second, while Bitcoin can only handle about 7. This makes ETH a much better choice for gamers who need to make quick, cheap transactions.
Additionally, ETH is critical to developing non-fungible tokens that are gaining adoption in e-gaming circles.
eSports Fans Desire Privacy and Stability
Monero is also popular because of its privacy-focused features. XMR uses unique ring signatures and stealth addresses to conceal each transaction's sender, receiver, and amount completely. These features make it an excellent choice for gamers who value their privacy.
Ripple, on the other hand, is popular because it's incredibly stable. Unlike other cryptocurrencies, which fluctuate wildly in value, XRP remains relatively stable thanks to its strong partnerships with financial institutions and banks.
That stability is essential for gamers who need to know precisely how much their in-game currency is worth.
More e-gamers are Embracing Crypto Payments
For many people, eSports and cryptocurrencies are a perfect match. The young, digital-native generation are early adopters of both new technologies and are more likely to take risks on new investment opportunities.
With the eSports industry continuing to grow, the interest in cryptocurrencies will likely continue to rise in the UK. According to a YouGov survey, the number of UK eSports fans likely to use cryptocurrencies increased substantially over the past year.
YouGov concluded that the likelihood of e-gamers using crypto assets grew 21% YOY from 47% to the current 57%. Despite this significant jump, the proportion of the whole country's population that would use cryptocurrency has increased by almost 64% (from 11% to 18%).
And while eSports fans are still only a small fraction of the total population, their trade is growing rapidly. With their craft growing in popularity, we'll see more fans turning to cryptocurrency in the future. This trend could significantly impact the cryptocurrency market, leading to its widespread adoption.

Nellius Mukuhi
Nellius is a cryptocurrency investor and journalist who has been in the nascent space since 2018. She is a seasoned writer who loves to travel and focuses on delivering relevant, valuable content for audiences.