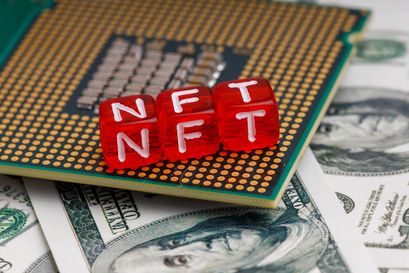 NFTs are probably the most confusing thing the world has seen in the 21st century. We keep hearing about people spending millions on digital arts and collectibles, but as the NFT statistics reveal, most people don't even know what an NFT is. While cryptocurrency is slowly becoming more and more accepted by consumers and businesses alike, the NFT market is still a mystery to the majority of the US population as well as to people from other developed European countries.
However, the recent involvement of celebrities and world-renown brands may reach these audiences and spark interest among them. Let's have a look at the stats and see what the current state of NFTs is.
Top 10 NFT Statistics & Facts
The global NFT market was valued at 15.7 billion in 2021.

The total number of NFT sales in the first quarter of 2022 is 7,447,473.

32,400 unique wallets hold 2.7 million unique NFTs.

One in every ten adult Americans collects NFTs.

90% of the Japanese population doesn't know what an NFT is.

"The Merge," the world's most expensive NFT, was sold for $91.8 million.

The value of OpenSea reached $13.3 billion in early 2022.

More than 43 million NFTs have been sold since 2017.

On August 27, 2021, 209,445 NFT sales were made.

Eminem made $1.78 million by selling his NFT collection "Shady Con."
NFT Market Stats
The global NFT market was valued at 15.7 billion in 2021.
NTF sales have fluctuated in the past year. For example, on April 15, 2021, the sales volume for the past 30 days was 28,396, and on April 15, 2022, the number of sales in the past 30 days was 22,589. It was at its peak on August 15, 2021, when there were 109,088 NFT sales in the previous 30 days. The global NFT market size is expected to reach $122.43 billion by 2028, with a CAGR of 34.10%.
(Globe News Wire, Statista)
The total number of NFT sales in the first quarter of 2022 is 7,447,473.
That is a 46.96% decrease from the last quarter of 2021, when 14,040,708 NFT sales were made. However, the total trading volume has seen an increase of 13.25% between these two periods. This is due to the 80.07% increase in the average price of the sold NFTs, which was $1,057 in Q1 of 2022 and $587 in Q4 of 2021. NFT trading stats also show that there were 816,027 sellers and 1,172,235 buyers in the NFT market in the first three months of 2022.
(Non Fungible)
76% of the NFT trade volume in Q1 of 2022 was generated in the collectibles segment.
The remaining 24% of the total trade volume was distributed in four segments: Gaming (8%), Art (8%), Metaverse (5%), and Utilities (3%). However, this doesn't mean that the collectibles segment sees the most activity. The Gaming segment had the most active wallets in the first quarter, with 51%, according to the NFT statistics for 2022. The Collectibles segment was in second place with 32%, while the Utility segment was third with 9%. The Art segment only accounted for 6% of the active wallets, while the Metaverse segment accounted for just 2%.
(Non Fungible)
32,400 unique wallets hold 2.7 million unique NFTs.
The above figures translate to 9% of the community holding 80% of the NFT-based items, which is not ideal, but not a terrible ratio either. However, a single user can have multiple unique wallets, so the actual ratio might be even worse than it looks at first glance.
(Financial Times)
NFT Demographics Statistics
One in every ten adult Americans collects NFTs.
A recent survey shows that 15% of the male and 4% of the female US adult population collect NFTs, either as a hobby or as an investment. Moreover, Millennials are the most prevalent US NFT collectors, as 23% of the respondents from this generation said they owned NFTs. Furthermore, 8% of American Gen Xers and 4% of Gen Zers collect NFTs, while only 2% of Baby Boomers say the same, as per the NFT buyer demographics statistics.
(Morning Consult)
5% of Americans with an annual income of $25,000 have invested in NFTs.
What's interesting is that the percentage of Americans with a yearly income of over $150,000 who have invested in NFTs is exactly the same, at 5%. The statistics further reveal that 4% of US consumers with an annual income between $75,001 and $150,000, 3% of those with $50,001 to $75,000, and only 2% of those with a yearly income of $25,001 to $50,000 have invested in NFTs.
(Civic Science)
90% of the Japanese population doesn't know what an NFT is.
One of the most interesting facts about NFTs is that most people still don't know what they are. In addition to the Japanese, the majority of people in other developed countries, such as Germany (82.6%) and the UK (78.8%), have no idea what an NFT is. The USA is in sixth place on this list, with 70.6% of Americans saying they don't know what an NFT is.
(Finbold)
The main reason for not investing in NFTs for 36% of Americans is that they are not interested in them.
The NFT stats from a recent survey also show that 22% of Americans say that they don't understand NFTs, and this is why they don't invest in them. In addition, 19% believe that their values are too unpredictable, while 11% say they don't have the financial ability to pursue this adventure. Only 4% of Americans say that they don't know how to buy NFTs, and this is what's stopping them from investing in one.
(Civic Science)
Thailand and Venezuela are the only two countries with more female than male NFT owners.
NFT statistics show that 30% of the women and 23% of the men in Thailand, as well as 11.4% of the women and 9.8% of the men in Venezuela, own NFTs. Everywhere else in the world, there are more men NFT owners than women. Hong Kong has the most balanced NFT investment distribution in the world, where 10.4% of the women and 11.2% of the men own NFTs. In the UAE, on the other hand, men dominate the NFT market as 26.6% of them own NFTs, while the portion of women NFT owners is considerably lower at 15.5%.
(Hacker Noon)
32% of people in the Philippines own NFTs.
NFT ownership statistics from 2021 show that the top five countries with the highest number of NFT owners per capita are from Asia. Thailand is in second place with 26.6%, and Malaysia with 23.9% is in third. The fourth place goes to the UAE, where 23.4% of the population owns NFT, and Vietnam is in fifth place with 17.4%. Nigeria is sixth with 13.7%. However, with an additional 21.7% of Nigerians planning to buy NFT in the future, it is more than likely that Nigeria will join the Asians in the top five.
(Business World Online)
NFT Sales Statistics
As of July 2022, there are 320,753 monthly active traders on OpenSea.
OpenSea is an NFT marketplace that was founded in December 2017, and the number of monthly active users for its first month was just 26. However, just four years later, in January 2022, this figure was at its peak at 546,127.
(Dune)
Between June and July 2022, the number of daily NFT sales varied between 21,800 and 61,353.
The highest number of primary sales for this period was reached on June 3rd, when 34,019 primary sales were made. Moreover, the statistics also show that the NFT sales volume varies between $26 million and $43 million on a daily basis. Finally, the average price an NFT is sold ranges between $475 and $1,687, depending on daily activity worldwide.
(Non Fungible)
"The Merge," the world's most expensive NFT, was sold for $91.8 million.
The Merge is a work of art done by a popular digital artist, PAK, and it was bought by 28,983 collectors, breaking a record in the process. It also broke the long-time record sale of "Everydays: The First 5000 Days," which was sold for $69.3 million and is currently in second place. NFT market statistics show that the NFT "Clock," also created by PAK, is presently the third most expensive NFT, sold for $52.7 million.
(Coins Creed)
Five of the top ten most expensive NFTs sold were part of the Crypto Punk collection.
The NFTs in question are: CryptoPunk #5822 sold for $23.7 million, CryptoPunk #7523 sold for $11.8 million, CryptoPunk #4156 sold for $10.26 million, CryptoPunk #5577 sold for $7,7 million, and CryptoPunk #3100 sold for $7.58 million. Their total combined value is around $61 million.
(Coins Creed)
The value of OpenSea reached $13.3 billion in early 2022.
NFT marketplace statistics show that last July, not even a whole year ago, OpenSea was valued at $1.5 billion. With its current value, OpenSea became the first NFT marketplace decacorn and one of the most valuable private companies in crypto.
(NY Times)
Just over a third of the primary sales of NFTs are worth less than $100.
According to recent research, the largest part of NFTs, or 33.6% of them, are sold for less than $100 on their primary sale, and 20% are sold for under $200. This means that more than half, or 53.6% of all NFTs sold, are sold for less than $200. NFT sales data further reveals that only 1.8% of NFTs are sold over the recommended price of 0.5 ETH.
(Medium)
More than 43 million NFT sales have been made since 2017.
At the moment of writing this article, 43,153,663 NFTs sales have already been made, generating $36,290,385,373 of trade volume in the process. Less than half of those sales, or 20,059,488, were primary, and the remaining 23,094,158 were secondary sales.
(Non Fungible)
On August 27, 2021, 209,445 NFT sales were made.
This is, by far, the day with most NFT sales recorded to date. However, with $248,109,050 worth of transactions, it isn't even close to being the day with the largest NFT trade volume. Instead, NFT stats show that May 1st, 2022 is that day, with $811,137,361 worth of trade volume generated by only 121,762 sales.
(Non Fungible)
Fun Facts About NFTS
NBA TopShot has generated $955.62 million worth of trade volume since its release in 2020.
NBA TopShot is an official, NBA-licensed NFT marketplace where users can buy, sell, and trade video highlights from NBA matches. As of right now, there are 563,821 traders on the platform who made 19,194,254 sales between them. The average price of an NBA TopShot NFT is $49.78.
(Dapp Radar)
Eminem made $1.78 million by selling his NFT collection "Shady Con."
There is no doubt that NFT popularity is on the rise when we notice more and more celebrities getting involved in the NFT market. The most successful NFT celebrity is the Canadian superstar Grimes, who sold her collection for $6 million. An honorable mention goes to The Weeknd, who didn't do too bad himself and sold his NFT collection for $2.29 million.
(NME)
"Disaster Girl," the most profitable meme NFT, sold for $573,136 at an auction.
"Nyan Cat" is a close second, reaching a price of $515,817, while the third most expensive meme NFT "Overly Attached Girlfriend," sold for $459,260. The statistics on the highest NFT sales, including memes, show that this type of NFT is highly profitable. Outside the top three, the highest-selling meme NFTs include "Grumpy Cat," which was sold for $100,860, "Bad Luck Brian," for $45,517, "Leave Britney Alone" for $43,027, and "Success Kid" for $35,204.
(Statista)
Dolce & Gabbana's NFT collection called "Collezione Genesi" generated $6,120,409 in sales.
With that figure, D&G is head and shoulders above the rest of the luxury brands that tried their luck in the NFT market. Nike's RTFKT collection of "Fewo Sneakers" reached $3,100,000 in sales and currently holds second place. NFT statistics also reveal that Burrbery's collection, "The Burberry Blanko," only generated $374,978, Givenchy's "Chito x Givenchy NFT generated $159,311, and Gucci's "Gucci Aria" generated $25,000 in sales, as of February 2022. Finally, Louis Vuitton also has an NFT collectible called "Louis the Game," but it isn't for sale.
(Statista)
Between July 2020 and July 2021, The Street published 405 NFT-related articles.
According to these statistics, the New York-based media outlet is "the most NFT-obsessed news provider." The runner-up is Benzinga, with 389 stories mentioning NFT, and Forbes is in third place with 282. Their work undoubtedly played a role in the expansion of the blockchain and contributed to the NFT growth, which was at its peak at the time.
(Gamblers Pick)
FAQs About NFTs
What is considered an NFT?
Why are NFTs so expensive?
How many NFTs are sold per day?
Conclusion
NFTs are a vital part of the blockchain, and as such, they are here to stay. Regardless of the generally low public awareness, the popularity of NFTs has nowhere else to go but up. In 2023, most of the big names from all markets are already involved in the NFT craze, in one way or another. This means it is only a matter of time before the smaller businesses join them and NFTs finally take off like they are supposed to.
Sources:
Here Are More NFT Guides
Author Bio

Darko Jacimovic
With over six years of writing experience, Darko is a prolific writer in multiple industries including, but not limited to, digital marketing, SEO, finance, and technology. Acquiring a BA in English pushed him to pursue his lifelong dream to conquer the internet and take over the SERPs with high-quality content. While looking for his next travel destination, Darko developed impeccable research skills that helped him craft some of the most popular stats pages on the World Wide Web.