Bitgert price has formed a head and shoulders pattern.
Its TVL has crashed from over $11 million to $5.8 milliom
Bitgert price has been under intense pressure in the past few weeks as the momentum that happened in August faded. BRISE dropped to a low of $0.00000055, which was substantially lower than last month's high of $0.0000016. According to CoinMarketCap, Bitgert has a market cap of more than $228 million.
BRISE momentum fades
The smart contract industry has become extremely competitive in the past few months. Ethereum has the biggest market share in the industry while other key contenders include the likes of Cardano, BNB Chain, Cosmos, and EOS.
Bitgert is another Ethereum-killer that has seen substantial traction among investors in the past few months. It was built on top of BNB Smart Chain and is known for its extremely fast transaction speeds and low costs. According to the developers, Bitgert can handle millions of transactions for less than $10. BRISE is the native token for the ecosystem.
Bitgert price had a strong performance in the past few months. Indeed, BRISE moved from obscurity to become one of the biggest cryptocurrencies in the world. At its peak, it had a market cap of over $300 million.
BRISE price surged as the developers announced plans to grow the ecosystem. They included plans to launch a blockchain operating system that will compete with the likes of Tron.
It also rose as the number of applications in its ecosystem rose. Some of the top apps in its ecosystem are Knit Finance, Sphynx Labs, Briseswap, and Midas NFT marketplace. According to DeFi Llama, Bitgert's total value locked (TVL) surged to more than $11.7 million in August. This growth was led by the strong performance of Sphynx Network.
Bitgert price has dropped sharply in the past few days partly because its DeFi TVL has crashed to $5.8 billion. This decline is also because of the soaring interest rates that have pushed bond yields to the highest level in years.
Bitgert price prediction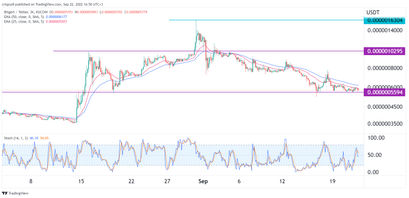 The four-hour chart shows that BRISE price has been in a strong bearish trend in the past few days. Along the way, the coin has formed a head and shoulders pattern. It is now trading at the neckline of this pattern. In price action analysis, it is usually a bearish sign.
Bitgert has also dropped below the 25-day and 50-day moving averages while the Stochastic Oscillator has moved to the neutral point. Therefore, there is a likelihood that the coin will soon have a bearish breakout as sellers target the key support at $0.00000035.
Author Bio

Crispus Nyaga
Crispus is a financial analyst with over 9 years in the industry. He covers cryptocurrencies, forex, equities, and commodities for some of the leading brands. He is also a passionate trader who operates his family account. Crispus lives in Nairobi with his wife and son.