Polkadot price bounced back on Tuesday.
Acala's ACA token price jumped by more than 50%.
Polkadot price crawled back on Wednesday as cryptocurrencies staged a comeback. DOT rose to a high of $5.4874, which was the highest level since Sunday. This price was about 10% above the lowest level this week, giving it a market cap of over $5 billion.
Acala's ACA jumps
Polkadot is a leading layer-1 blockchain that makes it possible for developers to build decentralized parachains. A parachain is an independent blockchain that developers can build on.
These parachains are connected through the relay network, which is the nerve center of Polkadot's ecosystem. Most of these products start their journey in Kusama, which is a testground for Polkadot's network.
Polkadot is home to several parachains such as Acala Network, Litentry, Enjin, Kusama, and Moonbeam. As such, the success of Polkadot is often measured by the performance of its parachains.
Polkadot price recovered modestly as Acala's ACA coin jumped by more than 50%. Acala is one of the biggest Polkadot parachain. It is a player in the Decentralised Finance (DeFi) industry that created aUSD. aUSD is a decentralized stablecoin for the Polkadot and Kusama ecosystems.
Find out how to buy Polkadot.
aUSD made headlines a few months ago when it lost its peg. At the time, the stablecoin's price crashed to a low of $0.009. Since then, its attempt to regain its peg have disappeared. CoinMarketCap and CoinGecko have not listed a market cap of the stablecoin.
It is unclear why Acala price jumped on Wednesday. A possible reason is that the developers announced that users in its ecosystem will be able to connect their Ledger wallet in the ecosystem. As such, users can view all token balances and transact easily on the network.
Still, the biggest challenge for Polkadot is that parachains like Moonriver, Karura, and MoonBeam have been struggling. Data compiled by DeFi Llama shows that their TVL have been slumping.
Polkadot price forecast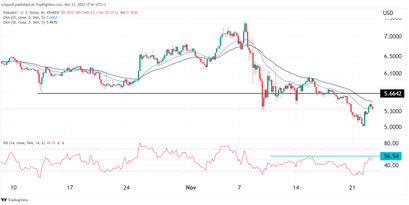 The four-hour chart shows that the DOT crypto price has been in a strong bearish trend in the past few days. It has crashed by more than 28% from its highest level this month. The coin has moved below the important support at $5.6, the lowest level since October 13. It has moved below the 50-day and 25-day moving averages.
Polkadot's Relative Strength Index (RSI) has found a resistance at 56.54. Therefore, the coin will likely continue falling as sellers target the key support at $5. A move above the key resistance at $5.5 will invalidate the bearish view.
Author Bio

Crispus Nyaga
Crispus is a financial analyst with over 9 years in the industry. He covers cryptocurrencies, forex, equities, and commodities for some of the leading brands. He is also a passionate trader who operates his family account. Crispus lives in Nairobi with his wife and son.