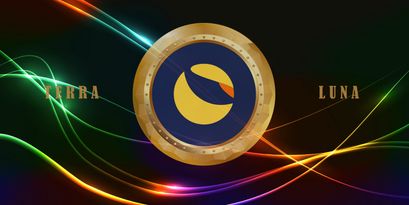 Best Speculative Crypto Coins to Buy in December

Crispus Nyaga
Last updated 15th Dec 2022
Cryptocurrency prices crashed hard in November as FTX imploded.
Terra Luna Classic price has formed a falling wedge pattern.
Solana's NFT ecosystem has been thriving, helped by DeGod and yOOt
Cryptocurrency prices declined sharply in November as risks in the industry rose. The main concern was the sudden bankruptcy of Sam Bankman-Fried's empire, including FTX and Alameda Research. As a result, the FTX Token crashed by over 95% while the total market cap of all coins crashed by over $200 billion. Here are the best crypto coins to buy in December.
Terra Luna Classic (LUNC)
Terra Luna Classic price has plunged by more than 73% from its highest level in August. In November, the coin crashed by over 30% as the FTX crisis intensified. While Terra Luna Classic has evolved to become a meme coin, there are several catalysts that could push the coin higher in December.
First, the burn rate has been in a strong upward trend in the past few months. The number of LUNC tokens being burned soared from over 9 billion in September to over 18 billion in November. At the same time, despite the weakness in the crypto market, the number of LUNC holders has been rising in the past few weeks.
Third, technicals suggest that Terra Luna Classic price has formed a falling wedge pattern that is shown in orange. In price action analysis, this pattern is usually a bullish sign. Therefore, while LUNC is high-risk crypto, there is a likelihood that it will bounce back in December. If this happens, the next key level to watch will be at $0.0003.
Solana (SOL)
Solana is another best crypto coin to buy in December. As I wrote in this article, Solana, Serum, and Bonfida prices plunged in November because of their exposure to FTX and Alameda. Solana price tumbled by over 71% from its highest level in November to the lowest level during the month.
Still, there is a likelihood that SOL will bounce back in December. For one, while Solana's TVL has plunged, it still has some of the most exciting projects. Further, Solana's NFT ecosystem boomed in November as DeGod and y00t sales surged. Its NFT volumes became the second after Ethereum.
Finally, Solana has formed a small inverted head and shoulders pattern, which will push the coin higher.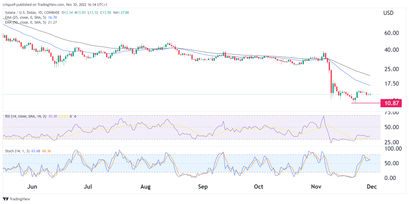 Uniswap (UNI)
Uniswap is the oldest decentralized cryptocurrency exchange in the world. It handles millions of coins on a daily basis and is one of the most popular platforms. The collapse of FTX and other exchanges like Voyager means that people will likely prefer decentralised platforms. These firms are usually open source and more transparent.
On the daily chart, the Uniswap price has formed what looks like a triple-bottom pattern. The 25-day and 50-day moving averages have also made a bullish crossover pattern, which is a bullish sign. Therefore, the coin will likely continue rising in December.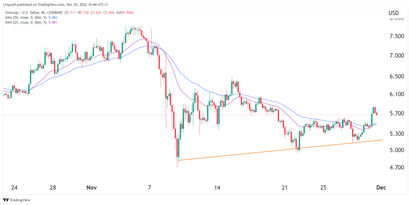 Crispus Nyaga
Crispus is a financial analyst with over 9 years in the industry. He covers cryptocurrencies, forex, equities, and commodities for some of the leading brands. He is also a passionate trader who operates his family account. Crispus lives in Nairobi with his wife and son.