MAGIC crypto price went parabolic on Monday.
The token surged after being listed by Binance, Gate.io, Bybit, and Huobi.
MAGIC crypto price went bonkers on Monday even as other cryptocurrencies remained under water. The coin surged to a high of $1, making it the best performer in the industry. At its peak, MAGIC was up by more than 106% from the lowest level on Monday.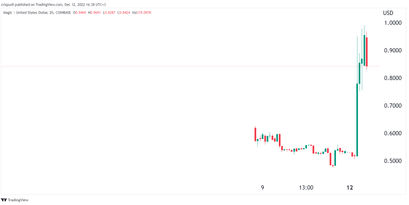 What is TreasureDAO and $MAGIC
MAGIC is the native token for the Treasure DAO ecosystem. Treasure DAO is a blockchain project created on Arbitrum's blockchain. It describes itself as a decentralized gaming console and publisher stack.
Treasure has three key parts: cartridges, community, and infrastructure. Cartridges are games and metaverses built from the ground up by Treasure that are connected by MAGIC. Community is the composite of many small communities that are connected through lore, guilds, resources, and MAGIC. Infrastructure is the shared economic engine that powers the ecosystem.
One of Treasure's key products is known as Trove, which is an NFT marketplace on Arbitrum. This platform makes it possible for people to trade NFTs in the Treasure DAO. It is denominated by MAGIC. According to the developers, Trove has handled over $281 million worth of transactions.
Treasure also runs MagicSwap, which is a DeFi protocol where users can easily swap tokens at a minimal fee. According to DeFi Llama, TreasureDAO has a total value locked (TVL) of over $83 million. At its peak, it had a TVL of over $600 million.
Why is MAGIC price soaring?
MAGIC price surged on Monday after a number of exchanges started offering the token. In a statement, Huobi said that it had officially listed MAGIC and that trading should start this week.
Further, Bybit said that it will add MAGIC on its spot trading platform and be available to trade right away. Gate.io also added the token in its ecosystem while Binance added it on its Innovation zone. Gate added the $MAGIC/$USDC pair.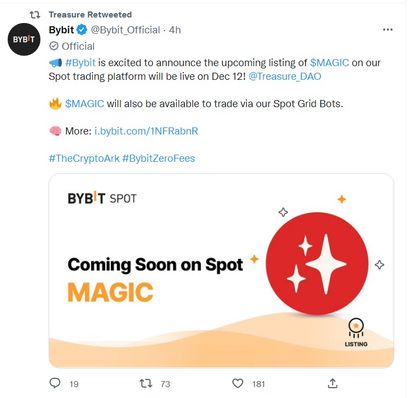 Historically, cryptocurrencies tend to surge after being listed by a major exchange. For MAGIC, it has been listed by several exchanges, which is a plus.
So, is MAGIC a good buy now? In my experience, I have noted that many coins that surge after a major exchange listing tends to underperform a few days later as the momentum fades. Therefore, I suspect that TreasureDAO's price will decline sharply in the coming days.
We saw similar pumps and dumps when some of the top coins like Shiba Inu, Optimism, and Dogelon Mars were listed.
Author Bio

Crispus Nyaga
Crispus is a financial analyst with over 9 years in the industry. He covers cryptocurrencies, forex, equities, and commodities for some of the leading brands. He is also a passionate trader who operates his family account. Crispus lives in Nairobi with his wife and son.