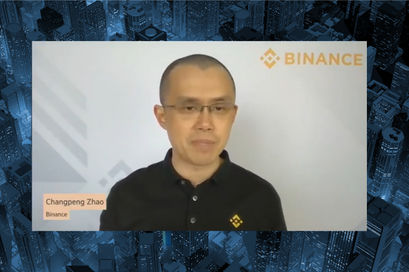 BNB Price Prediction Amid Rising Binance Red Flags

Crispus Nyaga
Last updated 31st Jan 2023
BNB coin has been in a steep sell-off in the past few days.
There are concerns about the safety of Binance.
BNB price continued falling on Wednesday as jitters about its exposure to Binance rose. Binance Coin plunged to a low of $250, which was much lower than November's high of $320. It has plunged by over 30% from its highest level in November.
Binance red flags remain
BNB is the cryptocurrency for the BNB Smart Chain (BSc). BSc is an Ethereum-killer that hosts hundreds of dApps in all industries like finance, games, and the metaverse. The coin is used to pay for transactions in this network.
Therefore, there is a big difference between BNB and FTX Token. The latter was a token designed to power FTX's ecosystem by providing discounts and rewards to holders.
However, there is a close similarity between the two. While FTX and Alameda held most of the FTX Token, Binance holds most of the BNB. On-chain data shows that Binance holds BNB worth over $4 billion, which is about 22% of its total supply.
Another reason why the BNB price is struggling is because of the rising red flags about Binance. For one, Binance is not regulated by American regulators just like FTX. While Binance published its proof-of-reserves in November, analysts have doubts.
Read our complete review of Binance.
For one, the proof-of-reserves showed just the Bitcoin that Binance holds. In a statement, the firm said that it could cover customer withdrawals. Indeed, on Tuesday, Binance handled customer withdrawals worth over $3 billion.
Still, the report did not show the amount of liabilities that Binance has. At the same time, another red flag is about the accountant used to vouch for the numbers. Instead of working with a big 4 accounting firm, Binance selected the South African affiliate of Mazars.
Also, it was not an audit report and it did not address the internal controls of the company. Most importantly, the accountants did its work using "Agreed-upon procedures" requested by Binance.
BNB price prediction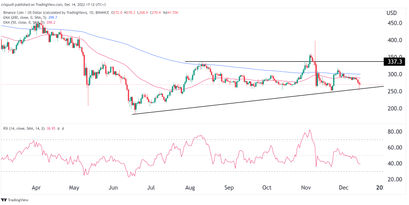 The daily chart shows that the Binance Coin price has been in a bearish trend in the past few weeks. It has crashed below the 50-day and 100-day moving averages. The Relative Strength Index (RSI) has moved below the neutral point at 50.
It is also a few points above the ascending trendline shown in black and formed a head and shoulders pattern. Therefore, the coin will likely continue falling as concerns about the ecosystem continues. If this happens, the next key level to watch will be at $200.

Crispus Nyaga
Crispus is a financial analyst with over 9 years in the industry. He covers cryptocurrencies, forex, equities, and commodities for some of the leading brands. He is also a passionate trader who operates his family account. Crispus lives in Nairobi with his wife and son.