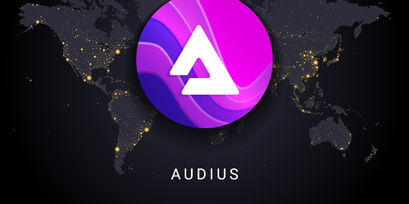 AUDIO Price Surged But History Points to an Audius Retreat

Crispus Nyaga
Last updated 31st Jan 2023
AUDIO price went vertical on Tuesday after Coinbase listed the token.
Historically, these exchange-listing pops tend to be short-lived.
AUDIO crypto price went vertical on Tuesday after the token was added in Coinbase. The token, which is the native crypto for Audius, soared by more than 60% in the past 24 hours. It reached a high of $0.36, the highest level since August 16. In all, AUDIO has jumped by 150% from the lowest point in 2022.
Audius struggles to disrupt Spotify
Audius is a leading blockchain network built on Solana. It is a Web3 network that seeks to disrupt the music streaming industry using blockchain tools. It has a mobile and web applications where people can download and stream music, mostly from independent musicians.
Audius is a well-backed platform that has raised over $13.6 million from well-known musicians like Jayson Derulo and Katy Perry. It has used some of these funds to boost its development and also make some acquisitions. The company acquired SoundStage.fm in October last year.
However, the reality is that Audius has struggled to gain traction in the past few years. According to its dashboard, it has had over 7 million unique users this month. While this is a high number, the reality is that its competitors are way much ahead.
Spotify has more than 420 million users while apps like Apple Music, YouTube Music, Deezer, Tencent Music, and Amazon Music have millions more. This growth is mostly because these companies are well-capitalized and have signed deals with the leading music labels in the world. In other words, Web2 works just fine than Web3.
AUDIO price jumped sharply on Tuesday after Coinbase decided to add it to its platform. This means that the millions of Coinbase customers will be able to both invest and trade the token. However, in the past, bullish moves triggered by exchange listings tends to be shortlived.
Read our complete review of Coinbase Pro.
AUDIO price prediction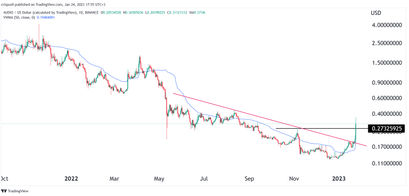 The daily chart shows that the AUDIO crypto price was in a slow comeback before the Coinbase listing happened. This rally was mostly because of the ongoing bullish momentum in the industry. AUDIO moved above the descending trendline shown in red and the horizontal resistance. This resistance was the highest level on November 5.
Therefore, as mentioned, I take this rebound with a grain of salt. In the past, exchange listings of tokens like Shiba Inu, Bonk, and Saitama Inu were short-lived. That's because the listing news will become stale and investors move to other issues.

Crispus Nyaga
Crispus is a financial analyst with over 9 years in the industry. He covers cryptocurrencies, forex, equities, and commodities for some of the leading brands. He is also a passionate trader who operates his family account. Crispus lives in Nairobi with his wife and son.