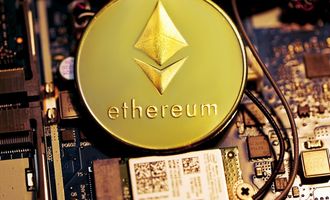 Ethereum Blasts Through Its All-time High. Is Now a Good Time to Buy?

Khashayar Abbasi
Last updated 27th May 2022
Much like many other cryptocurrencies, Ethereum (ETH) has blasted through its previous all-time high and is now heading towards new levels.
This means that the market capitalization of Ethereum now sits at half a trillion dollars, second only to Bitcoin (BTC).
Long-term investors in Ethereum will certainly be very pleased with their gains so far, but many newcomers are wondering whether now is a good time to add ETH to their portfolios.
Let's take a deeper look at the markets.
Upcoming catalysts for Ethereum
Exactly one year ago today, the price of 1 Ethereum was $470.
Today, each Ethereum costs upwards of $4,700 which is a more than 10x price appreciation in 12 months.
Even at these prices, Ethereum seems to have a lot of potential going forward as there are some huge upgrades coming to the network in the next few months.
This includes Ethereum 2.0 which is launching in several phases with the next one set to go live sometime in the first or second quarter of 2022.
When implemented, these upgrades will enhance the speed, efficiency, and scalability of the network significantly.
In many ways, these are much needed improvements as Ethereum is currently struggling to handle the vast number of transactions that are taking place on its network.
With these upgrades in the pipeline, social media is rife with bullish price predictions.
Where is Ethereum headed next?
Ethereum supporters have long believed that the price of ETH could one day hit 5-figures and more.
And in 2021, it seems that their dreams are coming true as Ethereum climbs higher towards the much-coveted $10,000 price point.
On social media, you will find tons of bullish sentiment which is assuring for newcomers who feel like they might have missed out on the ride.
Will #ethereum hit $10,000 by the end of year? No Way I Hope Hell Yeah👇 👇 👇

— Lark Davis (@TheCryptoLark) November 7, 2021
With much of the world's decentralized finance and NFT activity happening on the Ethereum blockchain, this rally is likely to continue should these services remain popular.
Is Ethereum worth buying now?
Given the upcoming upgrades to the network, along with the massive interest in decentralized finance and NFTs, Ethereum looks to have a promising future ahead of it.
Of course, while there may be corrections here and there in the short term, the long-term potential on Ethereum remains bullish.
The last few months of the year are historically good for the crypto markets and price action so far seems to support this notion.
As always, remember to only invest with money you can afford to lose as profits are not guaranteed.
There are many brokers where you can buy Ethereum you are interested to learn more, take a look at our eToro review.
This ad promotes virtual cryptocurrency investing within the EU (by eToro Europe Ltd. and eToro UK Ltd.) & USA (by eToro USA LLC); which is highly volatile, unregulated in most EU countries, no EU protections & not supervised by the EU regulatory framework. Investments are subject to market risk, including the loss of principal.

Khashayar Abbasi
Khashayar discovered Bitcoin back in 2014 and has since spent countless hours researching the different use cases of cryptocurrencies. He has a bachelor's degree in International Relations and has been a writer in the financial services industry for nearly half a decade. In his spare time, Khashayar enjoys photography, cycling, and ice skating.