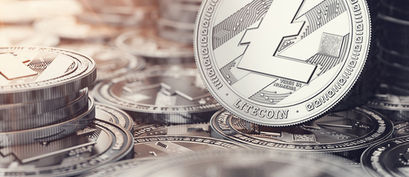 Litecoin price prediction as hyperinflation fears become real

Crispus Nyaga
Litecoin price has crashed to the lowest level since 2020.
US inflation is still surging and it will get worse as commodity prices rise.
The Litecoin price has been punched in the face in the past few months. It is trading at $100, which is close to the lowest it has been since December 2020. It has crashed by over 75% from its all-time high, bringing its market cap to about $7 billion. This makes it the 21st biggest coin in the world.
Why LTC coin has crashed
There are several reasons why the Litecoin price has crashed in the past few months. First, on-chain data shows that transactions in the Litecoin environment have dropped sharply in the past few months. This trend is mostly because the cryptocurrency industry has been saturated with coins that offer a better service than Litecoin.
Second, the Litecoin price has dropped because of the rising risk of hyperinflation, which will lead to a more aggressive Fed. Data published on Thursday showed that the headline American inflation surged to 7.9% in February this year. Core CPI, which excludes the volatile food and energy prices, rose to 6.4% in the same period.
Now. analysts expect that inflation will keep rising in the coming months because of the rising cost of commodities and supply chain challenges. It is hard to see a commodity whose price has not risen. For example, wheat, which is eaten by millions of Americans every day has surged to an all-time high.
Fertilizer prices have jumped after Russia temporarily banned exports to retaliate with sanctions added by western companies. Crude oil has jumped to over $110 and some analysts expect that it will soar to over $200 in the near term.
The Fed, on the other hand, is still flooding the market with liquidity. It has boosted its balance sheet to over $9 trillion from $4 trillion two years ago. Therefore, the Bitcoin and Litecoin prices have fallen as investors expect a more aggressive Fed.
Litecoin price prediction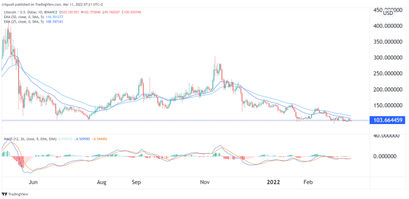 The daily chart shows that the LTC price is trading at an important support level. The current price is slightly below the key support at $103.66, which was the lowest level in July last year. It has managed to move below the 25-day and 50-day moving averages while the MACD has moved below the neutral line.
It has also formed a head and shoulders pattern, meaning that the path of the least resistance for the Litecoin price is lower. If this happens, the next key support level to watch will be at $80.
If you want to buy cryptocurrencies, check out our guides below:

Crispus Nyaga
Crispus is a financial analyst with over 9 years in the industry. He covers cryptocurrencies, forex, equities, and commodities for some of the leading brands. He is also a passionate trader who operates his family account. Crispus lives in Nairobi with his wife and son.