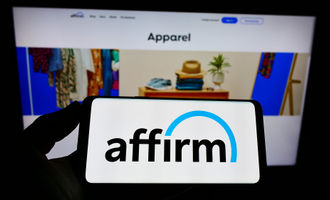 Affirm stock price forecast: AFRM could rise to $100 in 2022

Crispus Nyaga
Last updated 12th Apr 2022
Affirm stock price has crawled back in the past few months.
It is still significantly below its all-time high.
It could still bounce back to $100 in 2022.
The Affirm stock price has bounced back in the past few weeks as investors go back to beaten-down fintech companies. AFRM shares are trading at $43.84, which is about 68% above its lowest level this year. Still, the stock is about 85% below its highest level on record, bringing its total market cap to $13.2 billion.
Why AFRM dropped
Affirm is a leading fintech company that is in an industry that is seeing strong growth. It is a buy now, pay later (BNPL) firm that enables people to buy items and pay with installments. As a result, it has become a good option for many young people who are uninterested in paying the relatively high credit card fees and costs.
Affirm does not charge interest on its loans. Instead, it makes its money through late fees and commissions that it charges its partners. While these partners hate paying these commissions, they prefer being members because of the value of customers that Affirm brings. Plus, their competitors also use the platform.
Affirm stock price has been in a strong bearish trend in the past few months. There are several reasons for this. First, the company has struggled because of the challenges faced by Peloton, one of its biggest partners. Peloton has been under pressure as its growth slowed and inventories rose.
Fintech sell-off
Second, the AFRM shares have declined because of the overall sell-off of other fintech companies like PayPal and Block, formerly known as Square. Other fintech shares that have crashed are Remitly and Shift4 Payments.
Third, there have been concerns about the company's growth and the rising competition. Block has acquired AfterPay while PayPal has announced that it will enter the industry. Klarna is also in an expansion drive.
A minor reason why the Affirm share price has dropped is crypto. In 2021, it became possible to buy Bitcoin using its platform by partnering with NYDIG. It also fell because of the rising interest rates by the Fed. Higher rates usually push tech stocks lower. But on a positive note, these rates will likely incentivize more people to use its platform.
Still, there is a likelihood that Affirm is a good investment. While competition has risen, it has a substantial market share and its growth is still strong. Analysts are also optimistic about the stock since they have an average target of $66.
Affirm stock price forecast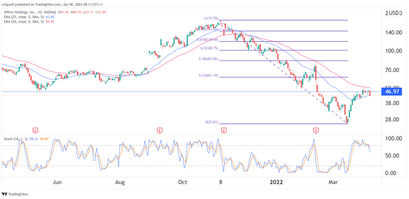 The daily chart shows that the AFRM stock has been trying to rebound. It remains below the important support at $46.97, which was the lowest point in May 2021. The stock is between the 25-day and 50-day moving averages. The stochastic oscillator has moved below the overbought level. Therefore, despite this volatility, there is a likelihood that the stock will rebound and retest the 50% retracement at $100 in the long term.

Crispus Nyaga
Crispus is a financial analyst with over 9 years in the industry. He covers cryptocurrencies, forex, equities, and commodities for some of the leading brands. He is also a passionate trader who operates his family account. Crispus lives in Nairobi with his wife and son.