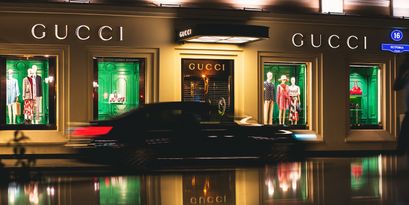 Gucci To Accept Cryptos in Select U.S. Stores

Murtuza Merchant
Last updated 30th Nov 2022
Gucci plans to accept Meme cryptos as well
Crypto payment policy to be expanded across all stores in North America
Italian luxury brand Gucci will soon start accepting payments in cryptocurrencies at a handful of stores in the U.S. where customers will be able to pay using Bitcoin, Ethereum, and Litecoin, among other cryptos.
Gucci will roll out the cryptocurrency payment mechanism in certain flagship stores including Rodeo Drive in Los Angeles, Wooster Street in New York, and Las Vegas later this month.
The firm also plans to take payments in Shiba Inu and Dogecoin, also known as "meme" cryptocurrencies that were initially created as a joke.
While paying in stores with cryptocurrencies, customers will be sent an email with a QR code to use with a digital wallet, the brand has said.
In the coming months, the brand plans to roll out the policy in all stores in North America, signaling that cryptocurrencies are becoming mainstream with each passing day.
Gucci is only the latest big name to announce that it will take cryptocurrency as payment. Some of the world's biggest brands, including Microsoft, Starbucks, and AT&T, are already accepting digital currencies.
While Bitcoin has already become legal tender in two countries, El Salvador and the Central African Republic, various attempts to sell high-value items for cryptocurrencies have failed because of money-laundering concerns and tax implications for U.S. residents.
One known example of the same is the cancellation of Tesla's attempt to sell its cars in Bitcoin because of the tax hit U.S. residents would incur when they liquidated their crypto, and the overhead cost of anti-money laundering disclosures required.

Murtuza Merchant
Murtuza Merchant is a senior journalist, having been associated with various publications for over a decade. An avid follower of blockchain tech and cryptocurrencies, he is part of a crypto advisory firm that advises corporates – startups and established firms on media strategies.