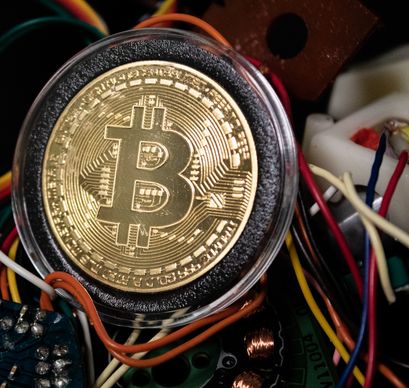 Bitcoin price prediction as the fear and greed swings to 11

Crispus Nyaga
Last updated 29th Jun 2022
Bitcoin price has crashed by 51% from its all-time high.
There are worries about the Federal Reserve tightening.
Bitcoin fear and greed index swings to extreme fear
The Bitcoin price retreated for the seventh straight week as the fear and greed index moved to the extreme fear zone. The BTC coin is trading at $33,726, which was the lowest level since January 24th this year. It has crashed by more than 51% from its all-time high.
Bitcoin fear and greed retreat
The Bitcoin fear and greed index, has moved to the extreme fear zone of 11. The index measures sentiment on a scale of 0 (extreme fear) to 100 (extreme greed) by examining community social media posts, surveys, volatility, trading volume, and more.
The Bitcoin price continued its downward momentum this week as investors reacted to the shifting monetary policy of the United States and other developed countries.
The sell-off reflects a fact that investors are getting afraid of fighting the Federal Reserve. There is also a situation where investors are embracing the mantra: sell in May and go away.
Last week, the Fed signaled that it was serious about its hawkish monetary policy. In a statement, the bank decided to increase interest rates by 0.50% for the first time in over 20 years. At the same time, Jerome Powell said that the bank will continue implementing 0.50% rate hikes in the coming meetings.
As a result, the Fed is in its most hawkish situation in more than a decade. Historically, it has focused on hiking interest rates by 0.25%. Further, the bank committed to implementing a quantitative tightening policy.
This week will be important for Bitcoin price from a monetary policy standpoint. The US will publish the latest consumer inflation data on Wednesday. Analysts expect these numbers to show that the headline consumer inflation number declined from 8.5% to 8.1% while the core CPI dropped from 6.5% to 6.0%.
If analysts are accurate, it will signal that inflation may have peaked. As a result, it will likely incentivize the Fed against making aggressive rate hikes.
Bitcoin price prediction
Bitcoin price prediction based on the current market trends below: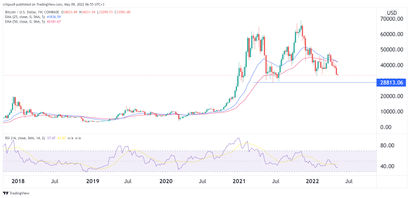 The weekly chart shows that the Bitcoin price has been in a strong bearish trend in the past few days. A closer look reveals that the coin formed a double-top pattern whose chin was at $28,813. Additionally, the 25-week and 50-week moving averages have made a bearish crossover pattern.
The Relative Strength Index (RSI) has been in a strong downward trend. Therefore, the BTC price will likely keep falling as bears target the key support level at $28,813, which was the lowest level on June 28th.
How to buy Bitcoin?
There are many different options to buy Bitcoin, if you would like to learn more, take a look at some of the following guides on how to buy Bitcoin with:
Trade with a cryptocurrency robot
Cryptocurrency robots are software tools that trade top cryptocurrencies using algorithms on your behalf. These robots usually partner with the best cryptocurrency brokers to provide the best trading experience. Below are some of the best cryptocurrency robots in the industry:
Quantum AI: Quantum AI is a cryptocurrency robot allowing you to trade BTC, USDT, LTE, XRP with a minimum deposit of $250. It offers automated trading features that do not require any trading knowledge.

Immediate Edge: Immediate Edge is one of the top crypto bots, allowing you to trade BTC, ETH, XRP, LTC and more, along with GBP, EUR, USD fiat currencies. Immediate Edge takes 2% commission on profits and claims 99% win rate. Immediate Edge gives beginners an excellent opportunity to explore contract-for-difference trading with some of the best Bitcoin brokers in their country.

Bitcoin Era: Bitcoin Era allows you to trade BTC, BCH, ETH, LTC, BTG, ZEC and 8 more top cryptocurrencies. Bitcoin Era claims to have a powerful AI algorithm developed to carry out profitable trading strategies. It comes with a minimum $250 deposit and no trading fees.

Crispus Nyaga
Crispus is a financial analyst with over 9 years in the industry. He covers cryptocurrencies, forex, equities, and commodities for some of the leading brands. He is also a passionate trader who operates his family account. Crispus lives in Nairobi with his wife and son.