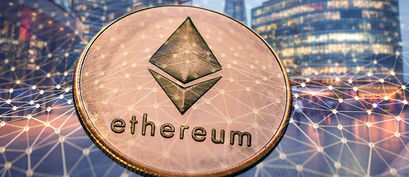 Ethereum Price Prediction: How Low Can ETH Fall?

Crispus Nyaga
Last updated 31st Jan 2023
Ethereum price is crawling back after this week's spectacular crash.
This is not the end of the ETH price crash.
Ethereum price is crawling back after having a spectacular freefall this week. It is now hovering slightly above the important support at $2,000, bringing its total market cap to more than $250 million. It has risen by over 20% from its lowest level this week.
Is this the end of the ETH crash?
Ethereum has been in a strong bearish trend in the past few months. The coin has managed to move from almost $5,000 in November last year to about $1,700 on Thursday. Take a look at our guide on how to buy Ethereum if you want to buy the coin by taking advantage of its low price.
There have been several important catalysts for the Ethereum sell-off- First, a closer look at the cryptocurrency industry shows that there has been a sea of red lately. Historically, digital coins tend to be significantly correlated.
Second, coins have also been correlated with the performance of stocks. All the four main indices in the US - Nasdaq 100, Dow Jones, S&P 500, and Russel - have all declined by more than 10% this year.
Tying the two together, we can say that the sell-off happened because of both fiscal and monetary policy decisions. In fiscal, the American government is no longer dishing out stimulus checks like it did in 2020 and 2021.
At the same time, the Fed has embraced the most hawkish sentiment in modern times. It has raised interest rates by 0.75% this year and hinted that it will raise by 1% in the next two straight meetings. Therefore, investors are concerned about this new normal.
Further, the crash of the Terra LUNA has not helped. With LUNA's crash to zero, investors now know that their crypto portfolio could crash within a twinkle of an eye.
Another reason is the recent delay of Ethereum merge event that will transition Ethereum from a proof-of-work to a proof-of-stake platform.
Ethereum price prediction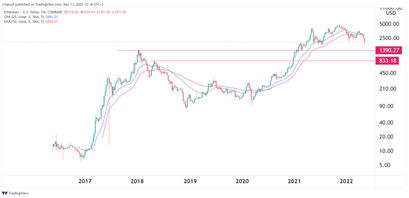 For a good perspective, let us turn to the weekly chart. As shown, there have been signs that the coin may have peaked for a while. And despite the pullback today, the chart shows that the 25-week and 50-week moving averages are making a crossover. This is a sign that the bearish trend is intact. It has also formed a small head and shoulders pattern.
Therefore, I believe that the coin still has more downside to move. If this happens, the next reference level to watch will be at $1,390. This is a notable point since it was the highest level in December 2018. A drop below this point will see the coin fall to $833.
Read more Ethereum news and information

Crispus Nyaga
Crispus is a financial analyst with over 9 years in the industry. He covers cryptocurrencies, forex, equities, and commodities for some of the leading brands. He is also a passionate trader who operates his family account. Crispus lives in Nairobi with his wife and son.