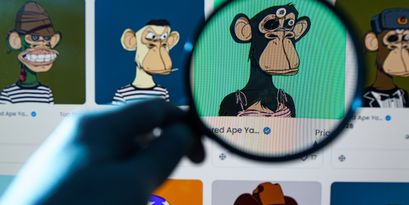 Yuga Labs Discord Hacked, NFTs Worth 200 ETH Stolen

Murtuza Merchant
Last updated 31st Jan 2023
Yuga Labs Discord hacked
NFTs worth 200 ETH stolen
This is the third time BAYC has been hacked
Bored Ape Yacht Club's (BAYC) parent company, Yuga Labs, said its Discord servers were hacked by a malicious actor, with NFTs worth 200 ETH or $360,000 stolen.
The hack was confirmed 11 hours following the attack.
"Our Discord servers were briefly exploited today. The team caught and addressed it quickly. About 200 ETH worth of NFTs appear to have been impacted. We are still investigating, but if you were impacted, email us at discord@yugalabs.io," BAYC tweeted from its official Twitter handle.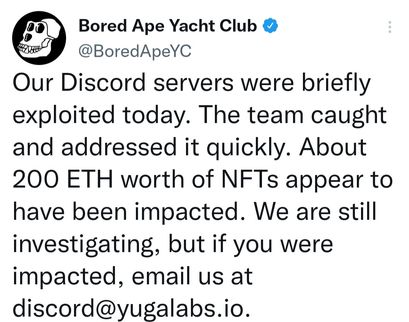 According to on-chain analyst and Twitter user NFTherder, the hacker breached the Discord account of BAYS project manager Boris Vagner and posted a malicious link that duped Bored Ape collectors and sent their NFTs to the attacker's address.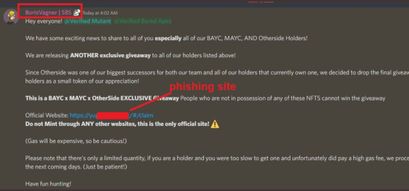 BAYC blames Discord, gets slammed
In response to the incident, BAYC founder Gordon Goner blamed Discord for the lapse in security but got slammed by other users.
"Discord isn't working for Web 3 communities. We need a better platform that puts security first," Goner said in a tweet.
In response, NFTherder tweeted, "Disagree. Don't blame Discord for users getting socially enginered, having dms open and clicking phishing links. Use the tool correctly first before blaming it."
Another crypto project founder blamed users themselves for compromising their wallets.
"You lost your NFT because you signed a malicious transaction with your key. Stop blaming Discord, another client won't save you from repeating the same mistakes," Steve Fink wrote.
This is the third time BAYC has been hacked, with the impersonator having been able to siphon off users' funds. On April 1, a Mutant Ape Yacht Club NFT was stolen via a phishing link on Discord. On April 25, users were scammed into giving up millions of dollars worth of NFTs after BAYC Discord and Instagram accounts were hacked.
On May 25, high-valued Ethereum-based Moonbirds NFTs worth $1.5 million were lost by a Proof Collective member amid an ongoing scam.

Murtuza Merchant
Murtuza Merchant is a senior journalist, having been associated with various publications for over a decade. An avid follower of blockchain tech and cryptocurrencies, he is part of a crypto advisory firm that advises corporates – startups and established firms on media strategies.