The brokerage platform is divided into Robinhood Financial and Robinhood cryptos to provide multiple investment options. On the crypto side, you can buy, sell, and HODL crypto like Bitcoin and Ethereum.
Robinhood provides an easy-to-use web platform and mobile app with no minimum trading amount. The app is an excellent fit for those who want to invest in various assets on the go.
The platform was founded in 2013 by two Stanford graduates, Vladimir and Baiju, who had previously specialized in making trading software.
Despite the limited cryptocurrency offering, Robinhood shines for low fees. It is also mobile-first, meaning trading crypto is relatively easy on your mobile phone.
Please note that the platform is only available for US residents.
The following features enhance your experience while using the platform to trade crypto and other securities:
Easy to use and intuitive desktop and mobile applications.

Relatively low fees, zero commission and no minimum balances.

Robin Gold for advanced access, better trading options and market research data.

High standards of security, including cold offline storage.
Robinhood Overview
| | |
| --- | --- |
| 💼 Provider Type: | Broker |
| 💸 Minimum Deposit: | None |
| 💰 Trading Fees: | Varied per trade |
| 💰 Deposit Fees: | None |
| 💰 Withdrawal Fees: | None |
| 💰 Management Fees: | None |
| 🔀 Minimum trade order | None |
| ⌛ Withdrawal Timeframe: | 2-3 business days |
| #️⃣ Number of Cryptocurrencies Supported: | 7 |
| #️⃣ Number of Crypto Pairs Supported: | 5 |
| 💱 Top supported Cryptocurrencies: | BTH, ETH, DOGE, LTC, BCH |
| 📊 Leverage: | None |
| 📱 Native Mobile App: | Yes |
| 🖥️ Free Demo Account: | No |
| 🎧 Customer Support: | Email, Phone |
| ✅ Verification required: | KYC, AML |
| 📈 CFD Available | No |
| 📊 Software: | Website, web app, mobile app |
| ⚽ Social Trading: | No |
| ✂️ Copy Trading: | No |
| 👮‍♂️ Regulators | Security and Exchange Commission (SEC), Financial Industry Regulatory Authority (FINRA) |
Pros and Cons of Using Robinhood
There are perks to using Robinhood. Apart from being a mobile-first platform, the broker does an excellent job in providing a simple-to-use interface. However, there are still some drawbacks that hold the platform back.
Pros & Cons
Pros
Zero commissions, meaning more value for your money
No account minimums with purchases starting from as little as $1
Fast and easy account setup with 2FA option
Access to a variety of trading options, including stock, gold, and crypto
Instant deposits that provide access to deposit before bank transfers are complete
Cons
Limited cryptos variety compared to other platforms
Lack of diverse funding options. For instance, credit and debit cards as payment options are not available
Little educational content and research tools
Robinhood Cryptocurrencies and Trading Options
What cryptocurrencies can you trade on Robinhood?
As we've indicated before, Robinhood offers a limited menu of cryptos. There are only seven coins in total. Here is the list available, although the platform plans to increase its offerings:
There is also little variety for trading pairs. Here are the trading pairs:
BTC/USD

ETH/USD

LTC/USD

DOGE/USD

BCH/USD
Different Trading Options Offered by Robinhood
With Robinhood, traders can trade using margins, EFTs, and options. However, there is only spot trading for cryptocurrencies. Buyers can get crypto using market and limit orders.
Can I Trade With Leverage on Robinhood?
Traders can trade margins with leverage for securities. Crypto traders cannot use leverage.
What Are the Spreads?
Spreads are available for options and cryptos. For crypto, the spread varies depending on the coin in question. For instance, due to the willingness of many investors to trade Bitcoin, the spread becomes a bit smaller. Other currencies with lesser frequencies in trading, e.g., Bitcoin SV, have larger spreads.
Fees, Limits, and Payment Options on Robinhood
What Are the Deposit and Withdrawal Fees, Limits, and Speeds?
Funding options on Robinhood are limited. Unlike competitors such as eToro, who offer more options, including e-wallets, Robinhood currently only supports one payment option.
Commission-free trading attracted small-time retail investors. This is not common among other brokerage firms or crypto exchanges. The lack of commission guarantees that traders get a little more value for their money. However, Other fees such as trading fees are still available on the platform.
Deposit Methods
ACH bank transfer, including direct deposit, is the only payment option on Robinhood. Clients with Paypal, cryptos, Skrill, and credit and debit cards cannot fund their Robinhood accounts.
What's interesting is that clients can access instant deposits. This means that you can use up to $1000 after initiating a bank transfer.
ACH transfers can take up to 5 days, and instant deposits help you trade even before your cash reflects on your Robinhood account. There are no deposit fees.
Users whose account have been upgraded to cash management can set up direct deposit. You can make up to 5 deposits per day, with a maximum limit of $50,000. The platform has no dollar minimum for deposits.
Withdrawal Methods
Just like deposits, you can only withdraw money to your bank account. Traders can withdraw up to $50,000 per day.
There are no withdrawal fees. Withdrawals are not instant and may take at least one business day. However, we advise traders to expect withdrawals to take up to four business days.
How Much Are Robinhood's Fees and Commissions?
Here is the status of various fees on Robinhood.
Commission: Zero commission.

Transfer fees: There are no transfer fees between your bank account and your brokerage account.

Maintenance and inactivity fees: No fees

Trading fees vary per trade.
Robinhood Trade Sizes and Limits
Traders can buy and sell fractional amounts of crypto assets. The position limit for crypto is a $5,000,0000 cost basis per coin.
Robinhood Trading Platform
What Devices Can I Use Robinhood On?
Robinhood provides both a web-based version and mobile applications. Here is a list of devices you can use to access the platform.
Android and IOS mobile

Tablets

PCs
The mobile app avails a plethora of features and tools. Some of the core functionalities you can access on the mobile apps are:
Buying and selling crypto

Investing in EFTs, options, and stocks

Cash management

Trading tools with access to real-time market data and notification of relevant news and events.

Customer support
Can I Use Robinhood in Any Country?
Only US residents can use Robinhood. The platform is available across all US state except Hawaii and Nevada.
Traders, however, can use the platform when travelling abroad, except in countries in the OFAC sanction list.
Is Robinhood Available in My Language?
Currently, the platform supports English only.
How Easy Is It to Use Robinhood?
Starting on Robinhood is relatively easy even for complete novices. The platform is simple in design, intuitive, and easy to use.
Both the mobile app and web platform have the same look and feel. Traders have the options of similar order types and asset classes. The process flow from depositing cash to purchasing assets is relatively seamless.
On the downside, the charting options and tools are essential. Advanced traders will have a hard time using the app due to these limitations. There are comparatively better trading platforms in terms of trading options and tools.
The platform has also previously suffered an outage on its trading engine. This was after heavy traffic, which overwhelmed the services on the platform.
Overall, the platform does the basic things right, with the mobile app a great asset to traders who manage their activities on the go.
Key Features
The number of users on Robinhood in 2021 was north of 20 million. The key attraction to the platform is its features. Here are some of them that power the platform
Commission-free trading
Robinhood pioneered zero commission investing with no account minimum. This means that there are no fees to open an account, maintain the account, or transfer funds to your account.
Please note that not everything is free. Other fees are associated with the platform, such as trading fees and regulatory transfer fees.
Ease of use
Unlike other brokerage platforms that come with lots of bells and whistles, Robinhood provides a basic and seamless application that is easy to use and understand.
Cash management feature
This feature allows account holders to spend their swept cash or earn interest on it. You can get a debit card which gives you the option to pay bills or buy groceries. Robinhood has partnered with Sutton bank to offer this feature. Cash in your account earns a 0.30% annual percentage yield.
Security and Regulation
Is Robinhood Safe?
Robinhood has instituted several measures to ensure personal data, funds, and assets are safe. The platform encourages users to activate 2-factor authentication or use a 6-digit PIN code when accessing their accounts.
For crypto, the platform offers cold storage for most of the coins. In addition, the company states that there is insurance against theft and cybersecurity breaches that may affect accounts, although details are not supplied.
On the downside, the platform suffered a security breach in November 2021, which affected thousands of accounts. An unauthorized third party accessed personal data from the platform, putting thousands of individuals at risk.
Am I and My Cryptocurrency Protected?
There are security risks involved in trading with any online trading platform. Robinhood has put in place measures to secure personal data and crypto-assets. Apart from 2FA, the platform allows facial and fingerprint login to limit unauthorized access.
Robinhood is currently rolling out a crypto wallet with thousands of users on the waitlist. After purchase, the platform holds your coins, meaning you cannot transfer them to an external wallet. This automatically makes the platform a target for hackers.
Traders should also note that Robinhood Crypto is not a member of FDIC or SIPC, and therefore, their investments are not protected.
We advise traders to use a robust email and password combination and set up 2FA. Additionally, custom PINs are also helpful to limit unauthorized access to accounts.
Is Robinhood Regulated?
Robinhood Financial is regulated by the Security and Exchange Commission (SEC) and the Financial Industry Regulatory Authority (FINRA).
Crypto trading, which is under is Robin Crypto has licenses for all states it operates in the US.
Do I Have to Verify My Account With Robinhood?
You must undergo know-your-customer (KYC) verification when signing up. This is in line with SEC and FINRA Anti-Money Laundering (AML) laws.
For you to open an account, you have to meet the following criteria:
Provide documents including drivers licence, state ID, passport photo page, bank statement, social security card, permanent residency card or a 3210 letter

Be 18-years-old or above
Extra Information
Educational Resources
Robinhood provides three hubs for learning. Investing basics, Library and Snacks make up the learning content available on the platform.
Investing basics: The website describes this as a place to start before starting your investment journey. Here you can find articles describing essential investment topics.

Library: This is another section with investment topics. It covers a wide range of subjects ranging from taxes to crypto.

Snacks: A newsletter that gives you financial news updates.
Tools and Charting
Charts and tools are critical in assisting traders in analyzing market trends and moves. The platform has candlestick and line charts for both crypto and stocks. You can also add indicators to your crypto charts.
Customer Support
Customer service is available through 24/7 phone support and email. These options are available for all trading options, including stocks and cryptos.
Customer reviews from verifiable sites give a mixed bag of satisfaction. Some clients rave about how fast their issues were sorted, while others complained about how long it took to solve their queries.
How to Open an Account With Robinhood
Here is a step by step guide to opening an account:
Visit the official website for Robinhood and create an account.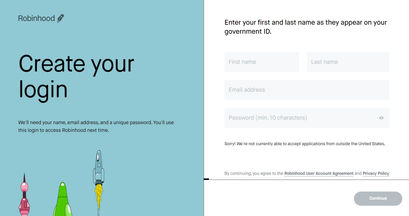 Step 2 - Verify your identity
Provide ID and other mandatory details for KYC/AML regulation purposes.
Step 3 - Complete application
Submit your application.
Step 4 - Get approved & start trading
Wait until you receive approval or a confirmation of any extra information you'll need to add.
Is there an alternative to Robinhood?
Yes, there are many more ways to trade cryptocurrencies. Check out some of our reviews for the best brokers:
1
Minimum Deposit
$100
Exclusive Promotion
2
Minimum Deposit
$50
Exclusive Promotion
Trade and invest in over 25 cryptocurrencies
Extremely simple user interface
Over 68 million customers
Final Thoughts
Robinhood has made a name for itself through its zero-commission trading across its different asset classes. Traders can use the platform to trade cryptos, Gold, EFTs, stocks and funds.
The platform has a limited number of coins and trading pairs available. Traders also have a limited selection of trading options available. You can only buy, sell or hold crypto on the spot using either market or limit orders.
In terms of payment options, Robinhood only allows for bank transfers. This limits the usage for clients with other payment options. Security is also a big part of the platform; however, there was a breach in late 2021.

Khashayar Abbasi
Khashayar discovered Bitcoin back in 2014 and has since spent countless hours researching the different use cases of cryptocurrencies. He has a bachelor's degree in International Relations and has been a writer in the financial services industry for nearly half a decade. In his spare time, Khashayar enjoys photography, cycling, and ice skating.