If you want to earn interest on your Bitcoin, the easiest and most popular way is to sign up for a crypto savings account. These accounts often provide much higher interest rates than a traditional bank account, they also come with more risk.
In this guide, we'll be reviewing the best platforms that offer Bitcoin savings accounts. We'll look at how much you can earn, features, security, and much more. We'll also be discussing how savings accounts work, the risks involved, and how else you can generate a passive income from crypto.
Where to Earn Interest on Bitcoin - Best Crypto Savings Accounts
Crypto.com - Best Platform For Earning Interest on Bitcoin
| | |
| --- | --- |
| 📈 Interest rate | Up to 1.5% (up to 3.5% for private members) |
| 🔒 Lock-up period | Flexible, 1 month or 3 month |
| ⌛ Payout frequency | Weekly |
| 🚀 Compound interest? | No |
| ⚠️ Limits | At least 0.005 BTC |
| #️⃣ Total no. cryptos you can earn interest on | 21+ |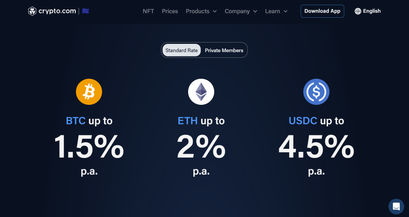 Crypto.com is known for providing a wide array of cryptocurrencies and features with a seamless user experience and exclusive perks for members. The Crypto Earn feature is easy to navigate from a desktop or mobile.
Standard users can earn up to 1.5% per year on their Bitcoin, but to access that rate they need to lock up at least $4,000 worth of Crypto.com's proprietary CRO token for a 3-month period. They can also opt for a 1-month or flexible term and lock up less CRO but the reward rates are lower. Meanwhile, private members earn an extra 2% a year in rewards.
The tiered reward system may be biased towards users with larger crypto holdings, but the variety of crypto savings options, ease of use, and other innovative features make Crypto.com our favorite crypto exchange for earning interest.
Visit Crypto.com
Do Other Platforms Offer Bitcoin Savings Accounts?
While there are a number of other platforms that offer crypto savings accounts, the tightening regulations in the US mean that they have been forced to restrict their services in the US. If you reside in another country, you will likely be able to use other crypto savings accounts. Some of the other options are detailed below.
Can I use Nexo in the US?
Can I use Binance Earn in the US?
Can I use Gemini Earn in the US?
Can I use Uphold in the US?
Can I use KuCoin Earn in the US?
Can I use Kraken Earn in the US?
Can I use OKX Earn in the US?
Can I use YouHodler in the US?
How to Earn Interest on Bitcoin: Step-by-Step Guide
This is generally a very simple process. Here, we'll illustrate the steps you can take to earn interest on your Bitcoin through Crypto.com.
What is a Bitcoin savings account?
Crypto savings accounts are accounts where you can deposit crypto and earn interest in return. Savings accounts are available for Bitcoin and a wide range of other cryptocurrencies. The interest is typically paid in the same cryptocurrency that you deposited, though some accounts may offer rewards in a different token.
Platforms that offer crypto savings accounts generate returns by lending your crypto to other users. The borrowers must pay back their loans with interest, and the crypto lending platform passes some of the interest earned on to you.
Lending platforms may offer the choice between flexible and fixed-term savings accounts. A fixed-term contract may provide higher interest rates, but you will have to leave your coins in the savings account for a specific amount of time first, and you may not be able to access them until the end of the term.
Crypto savings accounts work in a similar way to traditional savings accounts, but as they deal with crypto rather than fiat currency, they typically come with higher rewards and greater risk.
Are crypto savings accounts safe?
Crypto interest accounts may seem attractive with their high interest rates, but they require a much higher risk tolerance than a traditional interest-bearing account with a bank. Before deciding whether to deposit your Bitcoin into a savings account, you should be aware of the following differences and dangers.
Lack of insurance - This is a key difference between a crypto interest account and a bank account. While traditional savings accounts are protected by FDIC insurance up to $250,000, crypto investors have no such protections—if your crypto platform goes under, you'll have no recourse to get your crypto back.

Bankruptcies - The lack of insurance becomes all the more pertinent a risk when you consider the likelihood of crypto lending platforms going under. It is much higher than for banks—in the space of less than six months, crypto lending platforms Celsius, BlockFi, and Voyager all filed for bankruptcy, leaving users out of pocket.

Loss of control - If you deposit your Bitcoin into a savings account, you are hanging over control of your assets to a company. This requires you to have a lot of trust in your platform—as well as the dangers above, there is a risk that the company's wallets could be hacked if their security isn't up to scratch, or that they could even perform an exit scam, given the lack of regulation in crypto.

Withdrawal restrictions - With a traditional savings account, you can withdraw as much money as you like, whenever you like, but this may not be the case with your Bitcoin savings account. Fixed-term products could require you to lock up your BTC for a certain period with no option to withdraw until the end of the term. You may also be limited on how much you can withdraw at once, and be charged fees for withdrawals.

Price volatility - Anyone thinking of buying crypto should be aware of this. Prices can fluctuate suddenly and dramatically. Even if you get a good rate of 5% APR on your Bitcoin, if the value of BTC falls by 50% during the year, you could soon find yourself with much less monetary value, despite the high interest rates.
Pros and cons of a crypto savings account
What to consider before opening a Bitcoin interest account
Before you choose a platform and deposit your Bitcoin and begin earning interest, there are a few things you should think about. Consider the following before you make a decision.
Risk vs reward - The potential rewards may be significant, but so are the risks. Think about the dangers detailed above and decide whether the potential rewards are worth it based on your personal finances, understanding, and risk tolerance.

Interest rates - You will likely find that different platforms offer different interest rates so it's worth comparing them before you pick one. This doesn't necessarily mean you should just pick the highest interest rates, as platforms may engage in riskier activities to achieve the best yields.

Compounding and payout frequency - Some platforms pay a simple interest rate, while other platforms pay compound interest, enabling you to maximize returns. The more regularly compound interest is paid, the more it compounds.

Security - This is one of the most important factors when choosing a crypto platform, as earning interest is irrelevant if the platform loses your Bitcoin. Look for features such as cold storage, 2FA, encryption, and address whitelisting.

Access to your Bitcoin - Some savings products may require you to lock up your BTC for a set length of time, during which you can't access it. This means if there is a sudden change in market conditions, you won't be able to sell or trade your BTC.

Other features - If you want to do more than earn interest on crypto, it's worth checking out what else crypto lending platforms have to offer. They might offer features such as trading, educational resources, market analysis, copy trading, and NFTs.

Only invest what you can afford to lose - All trading and investing come with the risk that you will lose money. This risk is higher for crypto, and higher still when it comes to crypto savings accounts. Make sure your finances wouldn't be severely impacted if you lost your investment.
Are there other ways to earn Bitcoin interest?
Bitcoin savings accounts are popular for how easy to use, but if you have more technical knowledge, you might want to consider other methods of earning interest, as detailed below.
Wrapped Bitcoin
If you don't like the idea of trusting a centralized platform to look after your Bitcoin, you may prefer to use it on decentralized exchanges (DEXs) and other decentralized finance (DeFi) platforms that are managed by smart contracts and let you remain in control of your own private keys.
As these decentralized applications (dApps) don't run on the Bitcoin blockchain, you will first need to swap your BTC for Wrapped Bitcoin (WBTC), which has the same value but can be used on another blockchain network like Ethereum.
You will then be able to earn interest through activities such as lending and yield farming on DeFi platforms such as Compound, Yearn Finance, and Curve.
Automated Trading
While savings account interest is generated by lending your Bitcoin out, you may be able to generate a passive income on your BTC through trading. A number of crypto platforms enable you to do this through various methods and strategies.
On eToro, for example, you can use the unique CopyTrader feature to automatically replicate the trades of successful BTC traders. Meanwhile, KuCoin provides trading robots, and Flynt Finance uses your Bitcoin for a leveraged covered call strategy. Bear in mind that there is no guarantee you will make a profit through automated Bitcoin trading, and unlike savings accounts, you could end up with less Bitcoin.
How can I earn interest on other cryptocurrencies?
Of course, Bitcoin isn't the only cryptocurrency you can earn interest on. You can deposit other kinds of tokens into savings accounts, but some of them may offer you more options beyond this.
DeFi
If you have tokens that run on a blockchain such as Ethereum or BNB Chain, you can use them to provide liquidity on DeFi protocols and generate yield. We've already discussed this in the Wrapped Bitcoin section above, but the difference with other tokens is that you don't need to wrap them first.
Staking
Certain cryptocurrencies that run on a Proof of Stake blockchain can be staked in order to earn staking rewards. Staking coins means delegating them to someone who will validate transactions on the network.
Staking directly on the blockchain is less risky than crypto savings accounts, as you can maintain ownership of you crypto, it won't be loaned out, and there isn't a centralized company to go bankrupt. Cryptocurrencies that can be staked include:
Algorand

Chainlink

ATOM

BNB

Filecoin

Polkadot

Solana
Final Thoughts
The most popular way to earn interest on Bitcoin is to deposit it into a crypto savings account. This can provide you with higher interest than a bank account, but also comes with more risks, which is why it is important to choose your platform carefully.
Crypto.com is our top pick as it has strong security, a diverse range of savings products, and is available in the US.
Keep in mind the dangers of crypto savings accounts. You should always do your own research and never invest more than you can afford to lose.
Visit Crypto.com
FAQs
What is the best app to earn Bitcoin free?
What happened to the Nexo Bitcoin interest account?
How does compound interest work for Bitcoin?
What's the difference between Bitcoin and Wrapped Bitcoin?
Can you earn interest on Bitcoin on Coinbase?
Where can I get the best interest on Bitcoin?
Author Bio

Alice Leetham
Alice is a content writer and editor at Bankless Times. As a cryptocurrency and content specialist, she has reported on crypto news, produced user guides, and crafted content for exchanges. She has first-hand experience in trading and investing, and in her spare time, she writes the puzzle page for a regional magazine and rings church bells.