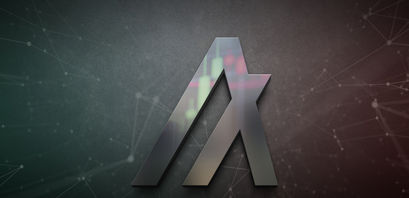 Algorand Price Prediction: ALGO is Ripe for a Major Pullback

Crispus Nyaga
Last updated 15th Dec 2022
Algorand was the best performing cryptocurrency on Tuesday.
It will be an official FIFA sponsor in the upcoming World Cup event.
The Algorand price jumped by more than 20% as investors react to the new partnership between the network and FIFA. The ALGO token is trading at $0.7040, which is the highest level it has been since April 26th. Its market cap has jumped to over $4.7 billion.
Algorand and FIFA deal
Algorand is a fast-growing blockchain platform that is primarily used by developers to build decentralized applications. It aims to become a good alternative to Ethereum, which is known for being relatively slow and expensive.
In a statement, FIFA and Algorand announced a partnership for the upcoming World Cup in Qatar. The deal means that Algorand will be the regional supporter for North America and Europe. It will also be a supporter for the Women's World Cup in Australia and New Zealand.
Rea more on how to buy Algorand.
As part of the deal, Algorand will provide the blockchain-supported wallet for FIFA. In a statement, the FIFA president said:
"The collaboration is a clear indication of FIFA's commitment to continually seeking innovative channels for sustainable revenue growth for further reinvestment back into football ensuring transparency to our stakeholders and worldwide football fans."
More blockchain projects have been embracing sports. For example, recently, Crypto.com announced that it will become a World Cup sponsor. Others have unveiled sports partnerships, with FTX partnering with the Mercedes Formula 1 team. Also, Velas has a deal with Ferrari's F1 team while Red Bull has partnered with Tezos.
Earlier this year, many companies like Coinbase, Binance, and Bybit spent millions of dollars advertising in Super Bowl. However, the impact of these ads has been a bit minimal as trading volume has been in a downward trend.
Algorand also faces the challenge of competition. It is competing with strong names like Ethereum, Solana, and Terra which have billions in total value locked (TVL).
Algorand price prediction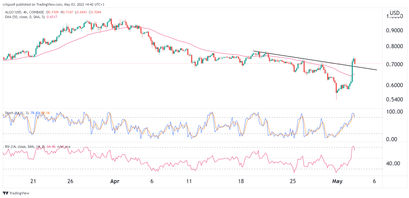 The four-hour chart shows that the ALGO price went parabolic after the FIFA deal was unveiled. As it did that, the coin's price moved above the descending trendline shown in black. It also crossed the 25-day and 50-day moving averages while the Stochastic Oscillator and the Relative Strength Index (RSI) have moved upwards.
In my view, I believe that the upward trend is not sustainable and that it will resume the bearish trend as the excitement wanes. Therefore, the next key support level to watch will be at $0.600.

Crispus Nyaga
Crispus is a financial analyst with over 9 years in the industry. He covers cryptocurrencies, forex, equities, and commodities for some of the leading brands. He is also a passionate trader who operates his family account. Crispus lives in Nairobi with his wife and son.