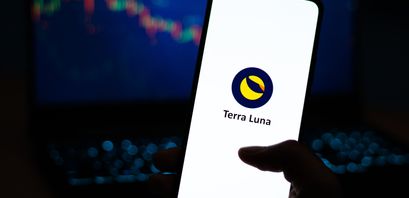 LUNA Loses Over 70% of Its Value a Day After Launch

Murtuza Merchant
Last updated 23rd Sep 2022
LUNA has lost 73% of its value since launch
LUNA being traded on Bybit, Kucoin, Kraken, MEXC, OKK, Bitrue, and BingX exchanges
A day after Terraform Labs launched the Tera 2.0 blockchain, its token LUNA lost about 73% of its value, after peaking at $19.54.
LUNA is currently trading at $5.75, with a low of $3.63, according to data from Coinmarketcap.
Terraform Labs CEO Do Kwon had in mid-May proposed to create a new Terra chain without Terra's algorithmic stablecoin TerraUSD (UST) after it lost its peg with the US dollar and fell as low as 7 cents in the weeks afterward, causing prices of its related luna (LUNA) tokens to drop 99.7% and outflows of over $28 billion from Terra-based decentralized finance (DeFi) apps.
LUNA being traded on 7 exchanges
While none of the exchanges have enabled its futures trading, LUNA is being traded on exchanges like Bybit, Kucoin, Kraken, MEXC, OKK, Bitrue, and BingX.
Shortly after the launch of Terra 2.0, Binance CEO Changpeng Zhao tweeted, "Credibility is the ultimate currency."

Meanwhile, crypto exchange Binance announced, "Binance will list Terra 2.0 (LUNA) in the Innovation Zone and will open trading for LUNA/USDT and LUNA/BUSD trading pairs at 2022-05-31 06:00 (UTC)."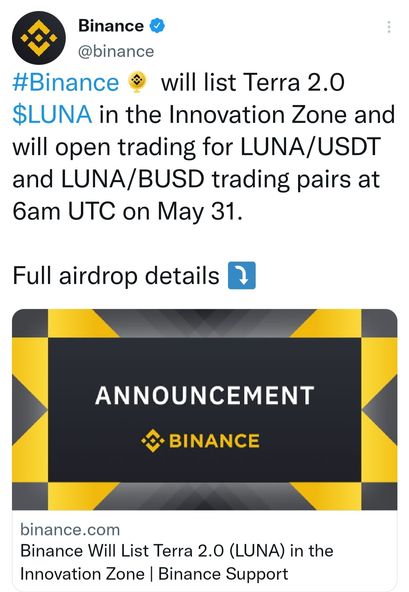 According to data from Coinmarketcap, a total of 21 million, out of 2 billion new LUNA tokens were airdropped on Saturday, and the remaining will be airdropped in phases.
Of the new LUNA tokens to be airdropped, 30% will be reserved for the community pool, 35% for LUNA holders before the crash of the ecosystem, 10% for pre-cash Anchor-staked UST (aUST) holders, 10% for post-crash LUNA holders, and 15% for post-crash UST holders.
According to developers "multiple things" will be possible with the new LUNA token, including, staking it to preferred validators, earning rewards, and participating in government decisions.

Murtuza Merchant
Murtuza Merchant is a senior journalist, having been associated with various publications for over a decade. An avid follower of blockchain tech and cryptocurrencies, he is part of a crypto advisory firm that advises corporates – startups and established firms on media strategies.