Cryptocurrency Price Predictions For 2022 - March Update

Khashayar Abbasi
Last updated 26th Sep 2022
The global markets have continued to sell-off in February as fears of inflation, rate hikes, and the Russia Ukraine crisis have all played a role in pushing prices lower.
Any rallies have been short-lived as market participants remain in a "risk-off" mode given the uncertainty clouding over the geopolitical landscape.
In this article, we'll cover the latest price predictions for the biggest coins and reveal our large-cap underdog pick for the month.
1. Bitcoin
In the first half of February, the price of Bitcoin (BTC) pushed past the resistance at $41,600 and turned the level into support.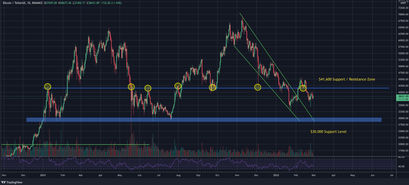 It remained there for a few days however, as escalation reports started emerging out of Ukraine, the price fell rapidly and has stayed below ever since.
At the time of writing, BTC remains in a downtrend but has stabilized above the $30,000 support level that marked the bottom of last year's crash caused by China's ban on cryptocurrencies.
With potential rate hikes by the FED in March and an unpredictable conflict in Ukraine, a Bitcoin below $30,000 is not off the table.
However, it is likely to get bought back up quickly should it get there, especially if the Russia Ukraine negotiations result in a ceasefire.
At the time of writing, several Russian banks have been cut off from the SWIFT financial system, leading to speculation that this move can push Russia towards alternative currencies such as Bitcoin.
It remains to be seen whether this inflow happens but it is a development worth watching.
2. Ethereum
Much like the wider global markets, Ethereum (ETH) has continued to sell-off in recent weeks, reaching as low as $2,300 in the past few days.
It now rests just above a year-long trendline that has been retested on several occasions and held successfully each time.
If negative news sends the price lower, there is strong demand for Ethereum at $1,800.
With huge upgrades planned for Ethereum this year that will improve the network's security and scalability, the outlook remains positive for Ethereum.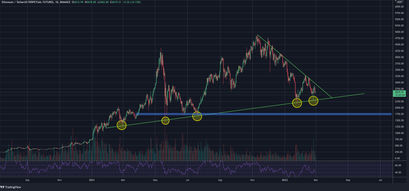 3. Solana
Solana (SOL) has been in a downtrend since November 2021 when its price peaked at $259 along with the wider crypto markets.
It has strong support at the $80 level which has held firmly for well over a month now.
However, if the crisis in Ukraine worsens, there is always a chance that this uncertainty can cause prices to fall lower. The next support level sits at $60.
Solana remains a promising project given its booming ecosystem and cheap and fast transactions.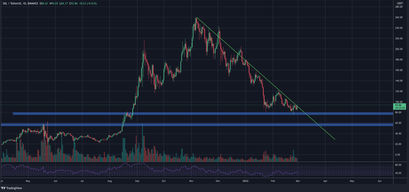 Our Monthly Underdog: Terra
Terra (LUNA) is among the best-performing coins of the past month.
After falling from $100 at its most recent peak, down to the support level at $50, it has now bounced back up to around $80, heading towards new all-time highs again.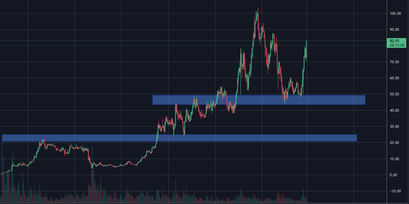 The Terra ecosystem continues to show strength despite weaknesses in the wider markets and if sentiment turns positive again, Terra looks set to become one of the first coins to shoot past its all-time high.
Certainly, a project to keep on your radar.

Khashayar Abbasi
Khashayar discovered Bitcoin back in 2014 and has since spent countless hours researching the different use cases of cryptocurrencies. He has a bachelor's degree in International Relations and has been a writer in the financial services industry for nearly half a decade. In his spare time, Khashayar enjoys photography, cycling, and ice skating.