BC Bitcoin launched in 2017 and is owned by J&M Trading. Since then, the platform has become one of the UK's best-known places to buy and sell Bitcoin.
Below are the main things you can do when using BC Bitcoin.
Buy and sell various cryptocurrencies. BTC isn't the only cryptocurrency you can invest in with BC Bitcoin. The broker lets you buy and sell several others, including Litecoin and Ethereum.

Coin storage. BC Bitcoin offers a secure and user-friendly coin storage service. The company allows you to store several cryptocurrencies using cold storage solutions, meaning that offline verification is needed for all transactions. As a result, your coins have an extra layer of security.

Coin swap. If you'd prefer to swap coins instead of buying new ones outright, BC Bitcoin has a service that facilitates this. All you need to do is send your coins after selecting the currency you've exchanged them for, and you'll receive these soon after.

Recurring payments. If you plan to buy cryptocurrencies frequently, you can use BC Bitcoin to set up recurring payments. You can choose to cancel this later if you wish, and you won't pick up any fees for doing so.
BC Bitcoin Overview
| | |
| --- | --- |
| 💼 Provider Type: | Broker |
| 💸 Minimum Deposit: | $200 |
| 💰 Trading Fees: | Varied |
| 💰 Deposit Fees: | Varied |
| 💰 Withdrawal Fees: | None |
| 💰 Management Fees: | Varied |
| 🔀 Minimum trade order | Varied |
| ⌛ Withdrawal Timeframe: | 1-2 business days |
| #️⃣ Number of Cryptocurrencies Supported: | 100 |
| #️⃣ Number of Crypto Pairs Supported: | 0 |
| 💱 Top supported Cryptocurrencies: | BTC, LTC, ETH, SOL, ADA |
| 📊 Leverage: | No |
| 📱 Native Mobile App: | No |
| 🖥️ Free Demo Account: | No |
| 🎧 Customer Support: | Email, Phone, Twitter, Facebook and LinkedIn |
| ✅ Verification required: | KYC |
| 📈 CFD Available | Yes |
| 📊 Software: | Website |
| ⚽ Social Trading: | No |
| ✂️ Copy Trading: | No |
| 👮‍♂️ Regulators | Financial Conduct Authority (FCA) |
Pros and Cons of Using BC Bitcoin
Pros
A huge selection of cryptocurrencies makes it easy for you to purchase the coins you want, even if you'd like to buy more obscure altcoins
Specialized services mean that you get the best level of expertise possible
An average rating of 4.8 on Trustpilot highlights that many users have had positive experiences with BC Bitcoin
Recurring payments means that you can purchase cryptocurrencies automatically
Cold storage ensures that your coins are kept secure while you're not using them
Cons
You can only pay in GBP and EUR, meaning that you'll incur exchange fees if you live outside the UK and Eurozone
Limited advanced features compared to other cryptocurrency brokers, meaning you'll need to use other apps and sites to keep an eye on profiting opportunities
No mobile app; you can only use BC Bitcoin on a browser
BC Bitcoin Cryptocurrencies and Trading Options
What Cryptocurrencies Can You Trade on BC Bitcoin?
BC Bitcoin lets you buy and sell over 100 cryptocurrencies. Five of the top ones have been outlined below:
Bitcoin (BTC) – BTC/GBP, BTC/EUR, BTC/ETH, BTC/ADA

Ethereum (ETH) – ETH/GBP, ETH/EUR, ETH/BTC, ETH/USDT, ETH/XRP

Cardano (ADA) – ADA/BTC, ADA/ETH, ADA/DOGE, ADA/USDT

Solana (SOL) – SOL/BTC, SOL/ADA, SOL/DOT, SOL/LTC

Litecoin – LTC/BTC, LTC/ETH, LTC/ADA, LTC/USDT
When buying trading cryptocurrencies on BC Bitcoin, it's important to remember that the value limits are £/€10,000 for a single transaction.
Different Trading Options Offered by BC Bitcoin
When you use a cryptocurrency trading platform, the types of markets offered will differ depending on the kind of service. For example, brokerages will often let you trade using contracts for difference (CFDs); you can also use spread betting on many. Meanwhile, cryptocurrency exchanges offer options, futures markets, spot markets, and more.
With BC Bitcoin, the primary way to trade is by buying and selling your coins — along with swapping. For these, you can adopt long-term and short-term holding strategies — but your options are otherwise somewhat limited.
Can I Trade With Leverage on BC Bitcoin?
Leverage is a tactic used by cryptocurrency traders to maximize their profits. Before we go any further, it's worth noting that leveraged trading carries additional risks. If you're a beginner, you should treat it with caution. Although you can increase your earnings, you're also liable to lose a lot of money if you aren't careful.
Unfortunately, BC Bitcoin doesn't let you trade using this tactic — so you'll need to search elsewhere if you want to do it.
What Are the Spreads?
BC Bitcoin doesn't offer spreads. So, like leverages, you'll need to seek alternatives if you want to trade using this tactic.
Fees, Limits, and Payment Options on BC Bitcoin
What Are the Deposit and Withdrawal Fees, Limits, and Speeds?
BC Bitcoin offers a small selection of payment options with different fees, limits, and speeds. Your purchasing limits will vary depending on the payment method you use. Bank transfers will come with a higher upper threshold; you can buy up to £/€20,000 of cryptocurrencies in one go. Comparatively, you can only spend £/€1,000 with your debit or credit card.
BC Bitcoin also charges additional fees when you make a transaction. Bank transfers warrant a 4% surcharge for BTC, which rises to 5% for other cryptocurrencies. If you spend more than £/€5,000 in one go, this fee drops to 4%.
Debit and credit card fees are a bit different. You'll usually pay more, with these fees often ranging around 7.5% for non-Bitcoin cryptocurrencies and 6.5% for BTC. However, this isn't set in stone all of the time. Sometimes, you might pay different amounts.
These fees aren't uncommon when you buy cryptocurrencies. Even if you use one of BC Bitcoin's competitors, such as Binance, you'll still need to pay fees that vary depending on your chosen payment method — and might also differ if you use a different cryptocurrency.
The payment method you choose will dictate how quickly your transaction is processed when it comes to speed. UK-based bank payments are usually processed in a few minutes, while SEPA transactions tend to take one working day. Meanwhile, debit and credit card payments are normally instant.
Deposit Methods
Like many platforms where you can buy cryptocurrencies, BC Bitcoin doesn't support a vast range of payment methods. Below are the different ways you can pay for your cryptocurrencies.
Bank transfer: You can fund your purchases using bank transfers, and the service supports both Faster Payments in the UK and SEPA if you're based in the EU. The minimum deposit with this method is £/€200, and the maximum is mentioned in the section above. In some countries, you might need to verify bank transfers for safety reasons.

Credit and debit cards: If you don't want to pay via bank transfer, you can use your debit or credit card instead. BC Bitcoin supports payments via both Visa and MasterCard. Debit and credit card transactions are faster than bank transfers; the minimum order limit is the same as bank transfers, with the maximum — which is lower — listed in the previous section. Some countries will ask you to verify card transactions.
Withdrawal Methods
When you're ready to sell your coins, BC Bitcoin will ask you to send the coins to their wallet. After that, you'll receive the money based on the currency's market value.
To receive your fiat money, you'll need to send BC Bitcoin your bank details — where they'll send the cash afterwards.
If you sell above a certain amount, you might need to contact BC Bitcoin to finalize the deal.
How much are BC Bitcoin's Fees and Commissions?
BC Bitcoin's depositing fees depend on the payment method you use, and we've listed these earlier on the page. You won't pay anything when it comes to withdrawals; these are usually covered by your wallet provider. In most cases, the mining fee is included within the order's overall value — though more significant transactions might involve you needing to pay extra if BC Bitcoin can't cover this.
BC Bitcoin also charges fee percentages when you use its coin storage. The entry fee, along with the pro-rata management and exit costs, are all 0.5%. You'll pay however much you owe when you withdraw.
It's not uncommon to pay maker and taker fees at cryptocurrency platforms, and the percentage will usually drop as you trade more volume within a certain period. Cryptocurrency exchanges often charge commissions, though this isn't always the case for brokers. Cryptocurrency exchanges will also charge withdrawal fees in many instances, and the price will vary from platform to platform.
BC Bitcoin Trade Sizes and Limits
BC Bitcoin has small trade size limits compared to other platforms where you can purchase cryptocurrencies, such as Coinbase. We've already listed the different trading sizes in the sections about deposits, withdrawals and limits; refer to those if you're curious. BC Bitcoin's limits are on a per transaction basis, whereas others have daily and monthly limits.
BC Bitcoin Trading Platform
What Devices Can I Use BC Bitcoin On?
BC Bitcoin is usable on various device types. We've outlined these in a list below.
Smartphone: You can use BC Bitcoin via your smartphone if you visit the website via your browser. However, no app is available for either Android or iOS devices.

Computer: BC Bitcoin is accessible on your computer's browser, but like smartphones, you can't use an app.
Can I Use BC Bitcoin in Any Country?
BC Bitcoin is available in several European countries, plus a small handful of jurisdictions elsewhere. Below, we've listed the four main nations where you can use the service.
The UK: BC Bitcoin is headquartered in the UK, and this is its most important market. You can access a full range of services if you live here.

Australia: Australia is one of the few non-EEA countries that you can use BC Bitcoin in. However, remember that you'll need to pay a foreign exchange fee for AUD/EUR or GBP.

Germany: Germany is the largest EU member state by population, and you can use BC Bitcoin throughout the country.

Ireland: BC Bitcoin caters to traders from Ireland and supports EUR transactions.
Before you sign up to BC Bitcoin, or any cryptocurrency platform for that matter, remember that some countries have banned crypto. So, it's important that you check the laws for where you live.
Is BC Bitcoin Available in My Language?
BC Bitcoin supports 12 languages from various corners of the world, the four main ones being English, French, German, and Arabic.
How Easy Is It to Use BC Bitcoin?
BC Bitcoin is generally quite easy to use. Purchasing cryptocurrencies is straightforward, and you can sell and store them — along with swapping — without major difficulties. However, one annoyance is that you can't use an app. While the website works fine from mobile devices, having an app that you could open and purchase would make many traders' lives easier.
Key Features
Because it operates primarily as a place to facilitate transactions, BC Bitcoin doesn't have the same cutting-edge features that some other services possess — such as eToro's "copy trader" feature. Its two unique areas in this respect are the coin storage and swapping, both of which we've already discussed.
Security and Regulation
Is BC Bitcoin Safe?
BC Bitcoin facilitates secure transactions and cloud storage, and the service is compliant with the EU's GDPR regulations. On top of that, the platform is also listed by the Financial Conduct Authority (FCA) in its list of crypto asset firms with temporary registration.
Am I and My Cryptocurrency Protected?
When using BC Bitcoin, it's important to remember that your assets aren't covered by the Financial Ombudsman Service or the Financial Services Compensation Scheme.
Is BC Bitcoin Regulated?
BC Bitcoin operates under the legal name of J&M Trading Ltd. It's temporarily registered by the FCA.
Do I Have to Verify My Account With BC Bitcoin?
Yes — BC Bitcoin has a strict registration process that everyone using its services must follow. This is to comply with financial regulations, such as those related to terrorist financing and money laundering.
You'll need to supply a passport, though you can submit a copy of your driving license if you're based in the UK and EU. On top of that, BC Bitcoin will ask for proof of your address — such as a bank statement or a utility bill. In addition to the above, you'll need to take a selfie to verify that you're who you claim to be.
Extra Information
Educational Resources
BC Bitcoin has a selection of educational resources available on its website. You can find various guides about different crypto wallets, along with the same for various cryptocurrencies.
Tools and Charting
BC Bitcoin doesn't offer live charts or some of the tools that you'll find with other crypto platforms.
Customer Support
BC Bitcoin has a wide selection of customer support options. You can call or email its team, in addition to contacting it on Twitter, Facebook and LinkedIn. When looking at customer reviews, BC Bitcoin has a reputation for fast and efficient customer service.
How to Open an Account With BC Bitcoin
To open an account with BTC Bitcoin, follow the steps below.
Step 1 - Visit BC Bitcoin's official site & Sign up
Visit the official website of BC Bitcoin and create an account. You'll need to go to "Register" in the top right-hand corner before clicking on "Login" and selecting "Register for an Account".*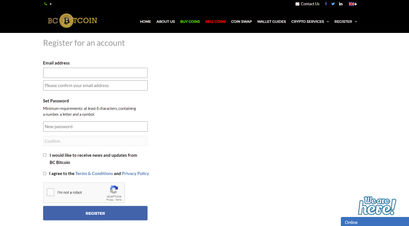 Step 2 - Verify your identity
Provide the documents necessary to complete the know your customer (KYC) checks.*
After you've submitted the documents, your account should be verified before long. After that, you'll be able to buy and sell cryptocurrencies.*
Disclaimer: eToro USA LLC; Virtual currencies are highly volatile. Your capital is at risk.
Is there an alternative to BC Bitcoin?
Yes, there are many more ways to trade cryptocurrencies. Check out some of our reviews for the best brokers:
Final Thoughts
BC Bitcoin is one of the best-known cryptocurrency brokers in the UK, and it also has a widespread service throughout the EEA and some other parts of the world. It's an easy place to buy hundreds of cryptocurrencies, with secure storage also offered.
With everything we've discussed, we recommend using BC Bitcoin if you want to purchase cryptocurrencies and hold them for a long time. If you're a more advanced day trader, you might find its lack of tools annoying — and in that case, we'd recommend looking at alternatives.

Khashayar Abbasi
Khashayar discovered Bitcoin back in 2014 and has since spent countless hours researching the different use cases of cryptocurrencies. He has a bachelor's degree in International Relations and has been a writer in the financial services industry for nearly half a decade. In his spare time, Khashayar enjoys photography, cycling, and ice skating.